Hello Mindful Shoppers!
I am excited about today's post, all about gift ideas for Valentine's Day. I am a firm believer that Valentine's Day is a day to celebrate all forms of love. Of course romantic love is a large part of Valentine's Day; however, I feel that we all have love to celebrate: love of a friend, a pet, a parent, a child, and the love of the beauty found within ourselves. So today's post is to celebrate the love for, in, and around all of us. Cheers to you and the person you are and the love that you discover in your world (even if it takes you awhile to notice it)!
With Love…..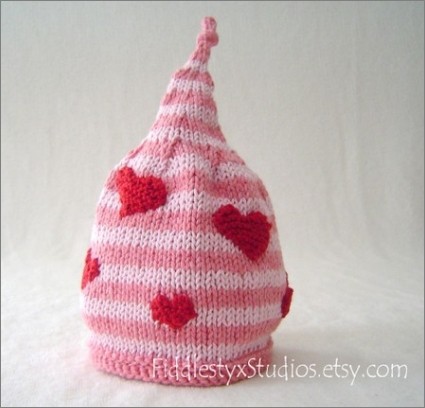 (1) Little ones will win over hearts while wearing this adorable pink Cupid Hat ($55). This original design by Artist Martha Johnson is made of soft 100% cotton yarn and features red hearts frolicking on a pink-striped background.
Please note The Mindful Shopper does not directly sell the items featured on this blog. Click on the product link to buy, check availability, or learn more about an item of interest.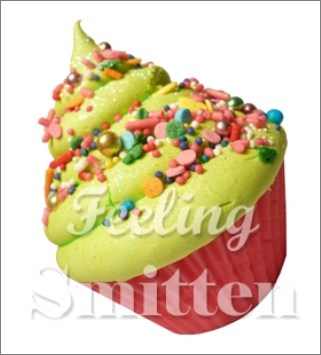 (2) These Feeling Smitten Cupcake and Mini-Cupcake Bombs ($5.50-$10.50) are solid moisture rich bath salts in the shape of yummy cupcakes. They will moisturize your skin while smelling delightful and adding luxurious bubbles to your next bath. These delectable bath salts come in various "flavors", (Mello Mimosa is seen above, made with the effervescence of champagne, melon, and sweet tangerine).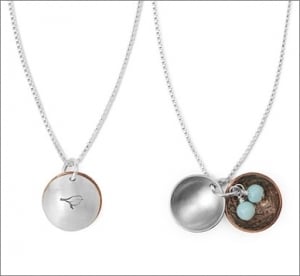 (3) What a lovely gift for any mother! The sterling silver dome on this Nest Egg Necklace ($68-$74) protects the semi-precious pendants inside. A hand-textured, warm copper nest cradles your choice of up to four Peruvian opal "eggs." The sterling silver dome is hand-stamped with a simple yet sophisticated bird silhouette.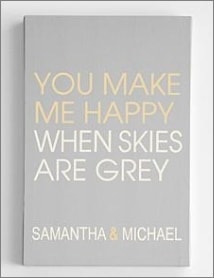 (4) Celebrate those you appreciate most with this simple message of happiness. This loving piece of Personalized Art ($79.95-$149.94) is a perfect gift for any loved one. Choose from three canvas sizes. Prints can also be mounted in a black or white frame.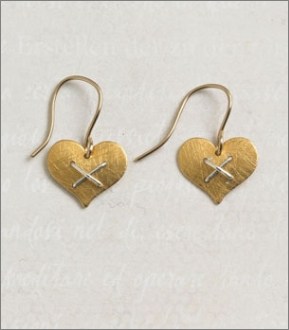 (5) Give someone special hugs and kisses with these delicate Hugs and Kisses Earrings ($85). These dainty hearts are crafted of 23kt. gold plate covering a sterling silver base and accented with stitching on the center.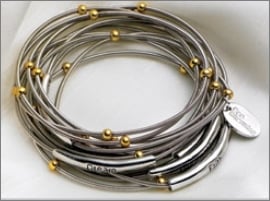 (6) This set of twelve Piano Wire Bracelets ($34.95) are a chic gift for any music lover. They are made of real piano wire accented with tiny golden beads. Six of the twelve bracelets are strung with nickel-silver tubes engraved with these inspiring words: Love, Peace, Faith, Dream, Serenity, and Happiness.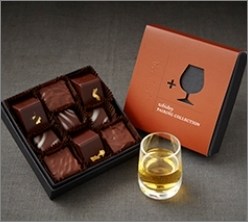 (7) This unique gift for chocolate and whiskey aficionados includes nine pieces of chocolate carefully selected to pair with suggested whiskeys by Master Chocolatier Michael Recchiuti. This Whiskey Pairing Chocolate Collection ($25) includes three pieces each of Kona Coffee, Honeycomb Malt, and Fleur de Sel.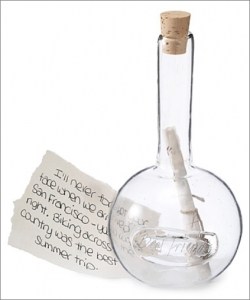 (8) This Message In A Bottle ($24, on sale for $14.99) is a piece of art created by Rhode Island glass Artist Laura Kramer. Each of these hand-blown glass bottles features a heartfelt etching on its surface and are hand-made from 20% recycled glass. Supplies are limited of this sought-after gift.
(9) This modern silver-plated Spinning Pendant ($69.95, on sale for $ 24.99) features "forever" with an etching of a heart on one side, and a couple's initials on the other. When it spins, the two sides revolve to create a memorable sentiment of love.
(10) What a Sweet Pillow ($56) quoting the famous philosopher Winnie the Pooh :): "If you live to be a hundred, I want to live to be a hundred minus one day, so I never have to live without you." It is embroidered with charming button details and made with an organic cotton/linen blend.