Hello Mindful Shoppers! Today's post is all about unique and fun gifts for Mother's Day, May 13th. I hope that you find something perfect for that special person in your life!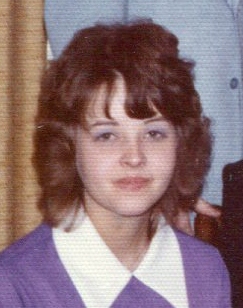 [My Mom, Jackie Stenehjem, early 1970s. What a cutie!]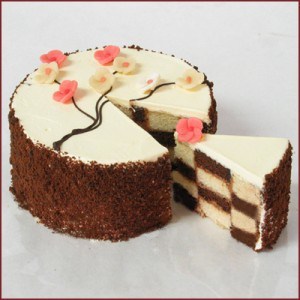 (1) Yum! This Spring Checker Cake ($43-$79) looks delightful! This chocolate and vanilla butter cake is made in a checkerboard pattern with bittersweet chocolate buttercream filling, a white chocolate buttercream finish, chocolate cake crumbs, and marzipan flowers.
For the Mom who would love an edible piece of art.
Please note The Mindful Shopper does not directly sell the items featured on this blog. Click on the product link to buy, check availability, or learn more about an item of interest.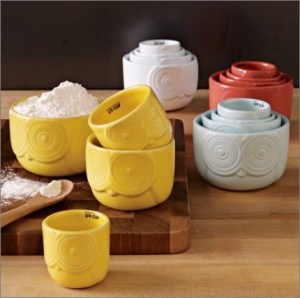 (2) Mom will love these charming Owl Measuring Cups ($19, set of four, currently not available). They can also be used to serve snacks or organize odds and ends.
For the Mom who enjoys cooking with a little whimsy.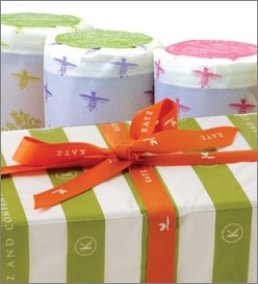 (3) This Branches Honey Gift Set ($36) was originally developed by the innovative Katz Store for the one and only Oprah. It includes three 17 ounce jars, gift-wrapped and boxed ready for gifting. Choose from four lovely flavors of honey; Citrus Blossom, Black Button Sage, Raspberry Flower, and Wild Blackberry.
For the Foodie Mom who thrives on trying out new flavors.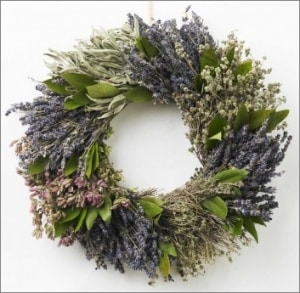 (4) This beautiful French Herb Wreath ($69) is harvested by hand and assembled by craftsmen. The French herb assortment interlaces sprays of lavender, sage, and bay which are grown naturally without pesticides.
For the Mom who appreciates lovely home decor in calming pastel colors.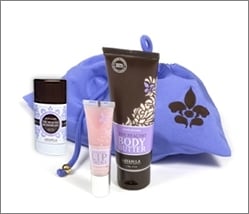 (5) Swimwear designer Lisa Curran and the healthy fragrance experts at Lavanilla Laboratories have collaborated on this great Summer Essential Healthy Beauty Kit ($36). It includes Lavender Lip Shine, Lavender Healthy Deodorant, and Lavender Body Butter with a waterproof pouch. Lavanilla Laboratories creates wonderful organic products made without harsh chemicals, synthetic dyes, sulfates, or parabens. A dear friend of mine has used Lavanilla products and loves them.
For the Mom who enjoys using healthy beauty products.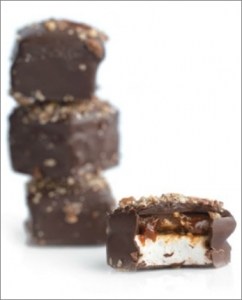 (6) These blissful Vosges Haut Marshmallow Treats ($13, for four) are made with Madagascar bourbon vanilla beans, sweet caramel, French Guérande grey sea salt, dark chocolate, and Bapchi's Caramel Toffee bits. Ooh la la!
For the Mom who loves sweet treats.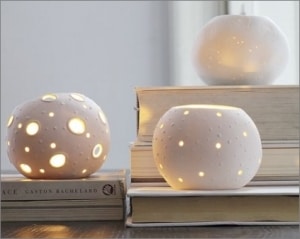 (7) These Tealights ($12, on sale for $9 each, currently not available) by Artist Maria Moyer were designed for The Plankton Series, a collection of porcelain objects and vessels inspired by the exquisite beauty of microscopic plant and animal plankton. Five percent of the purchase price of each piece will benefit Oceana, a non-profit protecting the world's oceans.
For the Mom who loves to decorate with items from the sand and sea.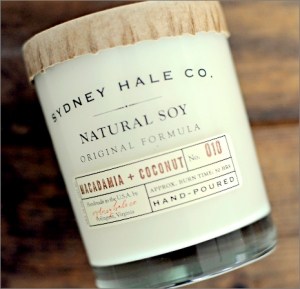 (8) This dreamy Macadamia and Coconut Candle ($26) by The Sydney Hale Company is created to remind you of the smell of Summer with the bouquet of "beachy" coconut and a hint of light macadamia. The glass holder is silk-screened with a classic apothecary design so that the container becomes a glass piece you can later re-use in your home (it would make a cool drinking glass).
For the Mom who enjoys relaxing with a wonderful candle.

FOLLOW ME:
FACEBOOK | PINTEREST | TWITTER
FREE NEWSLETTER: