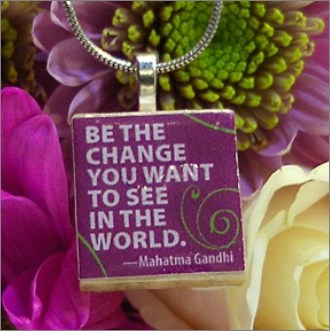 (1) This Be The Change Pendant (SOLD OUT) is made of a reclaimed wood game piece and recycled paper.  Each pendant comes in an organza gift pouch.  The quote on the pendant, "Be the change you want to see in the world, " is by Mahatma Gandhi, a man who truly lived by these words.
Please note The Mindful Shopper does not directly sell the items featured on this blog. Click on the product link to buy, check availability, or learn more about an item of interest.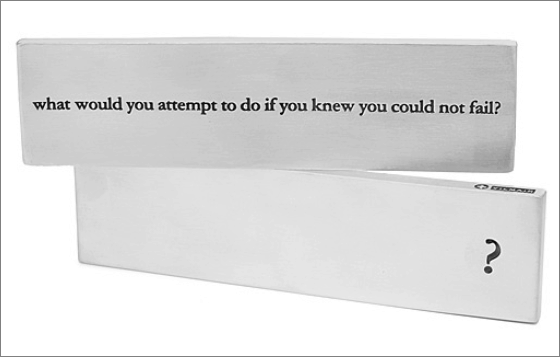 (2) This 100% lead-free pewter paperweight boldly poses the question, "What would you attempt to do if you knew you could not fail?" ($35).  I gave this paperweight to my best friend and he did not fail in his personal attempt.  What an inspiring reminder to follow your dreams!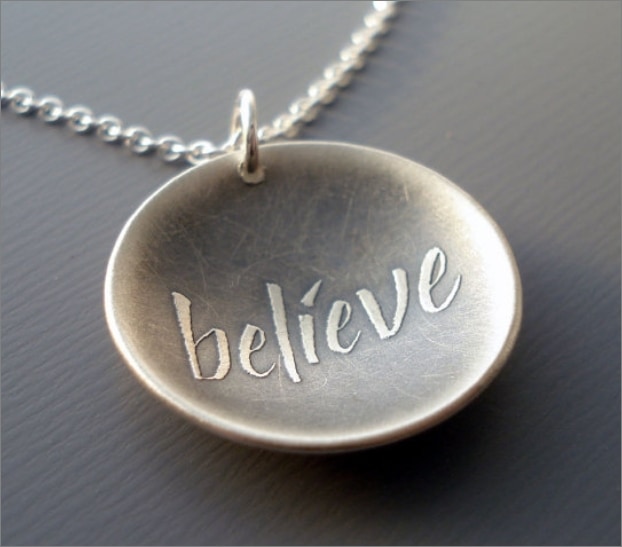 (3) Artist Lisa Hopkins has etched the word "believe" ($62) into this gently cupped sterling silver pendant which is then oxidized for contrast and given a brushed finish.  A simple expression but one that says so much.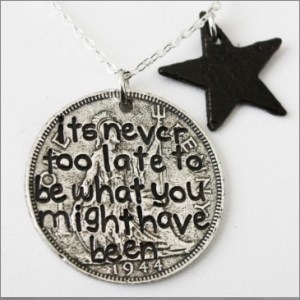 (4) This coin pendant is hand-stamped with the phrase, "it's never too late to be what you might have been" ($75).  The coin is placed on a 18″ silver plated chain with a black nickel-plated vintage star.  This is one of my favorite quotes which is attributable to George Elliot.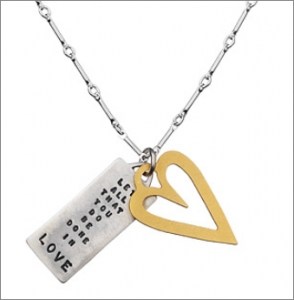 (5) This necklace has a handmade 22-karat gold-plated heart which is layered over a sterling silver token engraved with the words, "Let All That You Do Be Done In Love" ($68).  What an elegant reminder to live in love.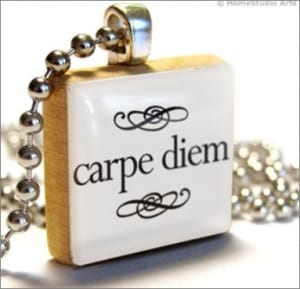 (6) This Carpe Diem Pendant ($8.95) is handmade by HomeStudio Arts.  This pendant is made of a reclaimed Scrabble® game piece.  HomeStudio lets you personalize it by picking the Scrabble® letter that you want on the back of the pendant.  Those who know me well understand how important the Carpe Diem sentiment is to me.  I strive daily to "live in the moment"- harder to do than say.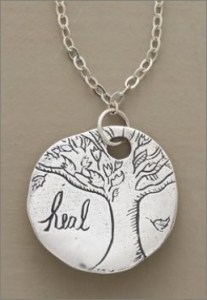 (7) This Valiant Necklace ($188) has an oak tree amulet to promote strength of mind and body with "heal" inscribed on the front and "Be brave and have courage" on the back.  We could all use this token to remind us of the strength that already lies within us.
Thank you for dropping by The Mindful Shopper! I absolutely LOVE it when you stop by! I hope you enjoyed my post all about Small Words With Big Inspiration!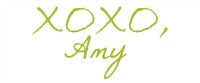 FOLLOW ME:
FACEBOOK | PINTEREST | TWITTER
FREE NEWSLETTER: