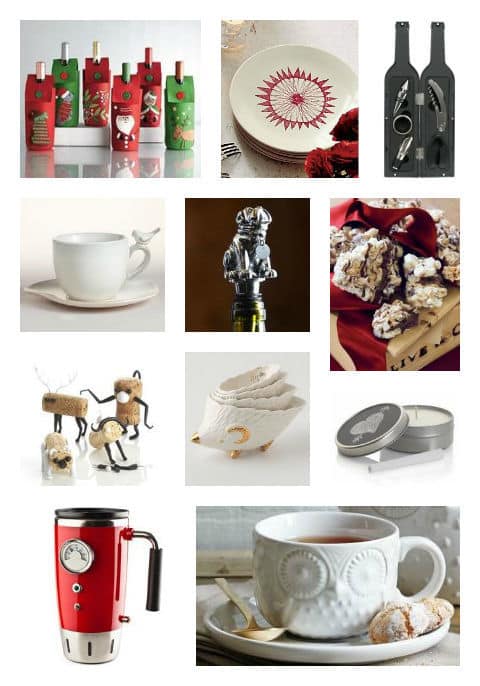 [FIRST ROW] Wine Bottle Holders ($14, on sale for $12 each). Red Ornament Plate (sold out). 5-Piece Wine Bottle Accessory Set ($34, on sale for $25.50).
[SECOND ROW] Sweet Bird Cup and Saucer Set ($27.96, set of four). Bulldog Bottle Stopper ($16.50, on sale for $11.50). Rocky Road Popcorn ($38).
[THIRD ROW] Corkers (sold out). Measuring Hedgies Set (sold out). Chalkboard Tin Candle (sold out).
[FOURTH ROW] Hot Rod Heated Mug ($24.99). Owl Teacup + Saucer ($14 each).
Please note The Mindful Shopper does not directly sell the items featured on this blog. Click on the product link to buy, check availability, or learn more about an item of interest.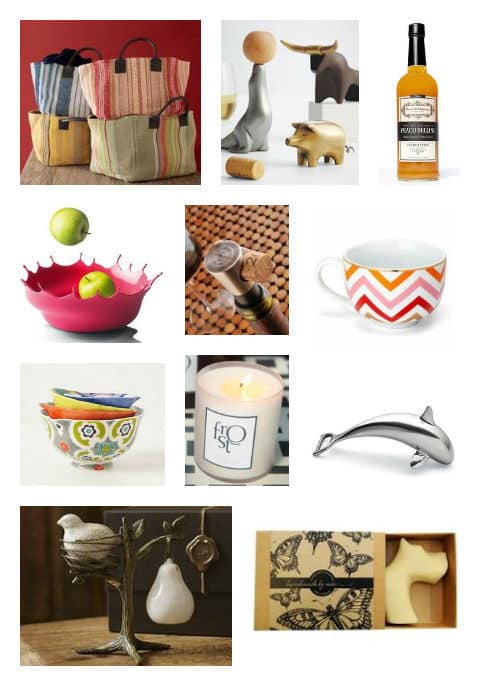 [FIRST ROW] Cottage Stripe Cotton Storage Basket ($34). Whimsy Animal Corkscrew ($39.95, on sale for $29.95 each). Peach Bellini Mix ($6.99).
[SECOND ROW] Dropp! Bowl ($48). Buono Vino Wine Stopper ($22.99)– gives back to charity. Chevron Latte Mug (sold out).
[THIRD ROW] Okuno Measuring Cups ($36). Olive & Cocoa Signature Frost Candle ($38). Whale Bottle Opener ($20).
[FOURTH ROW] Partridge In A Pear Tree Salt & Pepper Shakers ($39.50). Scottish Terrier Shaped Handmade Green Tea & Lemongrass Scented Soap ($11.85) by Artists at Handmade By Moi Shop.

Thank you for dropping by The Mindful Shopper! I absolutely LOVE it when you stop by! I hope you enjoyed my post all about "Lovely Hostess Gifts"!

FOLLOW ME:
FACEBOOK | PINTEREST | TWITTER
FREE NEWSLETTER: