[Page 2 of 2]
THE LOTS OF GOOD STUFF GIVEAWAY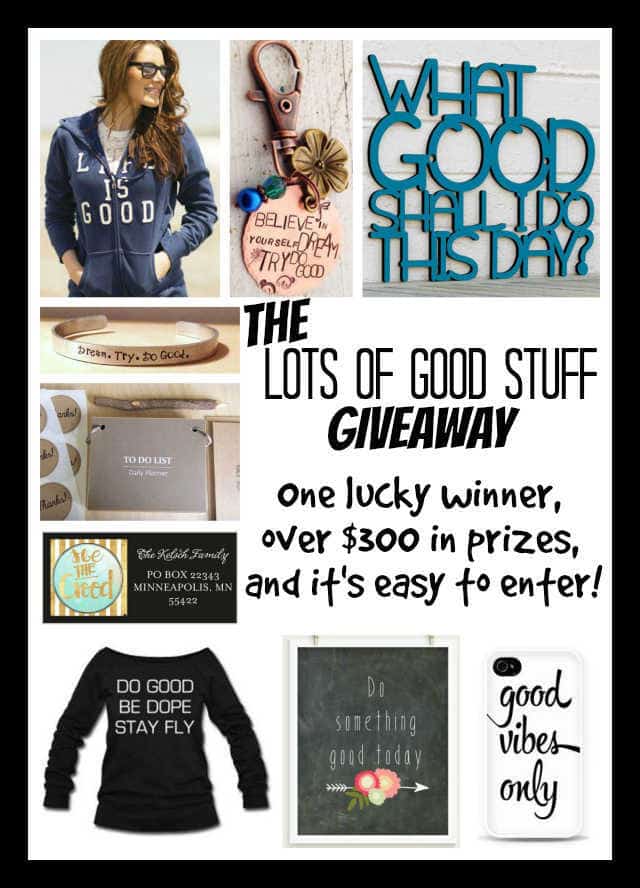 Enter below for The "Lots of Good Stuff" Package Giveaway! One Winner will be randomly drawn from all entries to Win:
1) An awesome Hoodie from Life Is Good.  2) A generous $59 gift certificate from Spunky Fluff.  3) A rockin' Good Vibes Only Phone Case from AFTERIMAGES.  4) A chic Do Good, Be Dope, Stay Fly Sweatshirt from AK Apparel.  5) A lovely Dream. Try. Do Good. Bracelet from Stamp Amour.  6) A cool Positive Quotes Daily Planner from Journal Junky.  7) A beautiful Believe In Yourself Keychain from Faeriekissage Studio.  8) A gorgeous Do Something Good Today Digital Print from Inspire Your Art.  9) A fun See The Good Personalized Stationery Set from me, The Mindful Shopper. 🙂
[No purchase is necessary to enter or win. The Giveaway is open to anyone 18 years or older, as of the date of entry, living in the United States. The Giveaway is void where restricted or prohibited by law. The odds of winning this Giveaway depend upon the number of eligible entries received by the deadline of the Giveaway. The Winner will be randomly drawn from the Giveaway entries.]
[DON'T MISS FUTURE GIVEAWAYS, EXCLUSIVE DEALS, AND FABULOUS FINDS – CLICK HERE TO SIGN-UP FOR THE MINDFUL SHOPPER EMAIL NEWSFLASH.]
Helpful Hints For The Giveaway Entry Form:
There are multiple options for entry in the Entry Form above- you can pick which entry options you want to use, or do all of them.
If you have already done an entry option in the past, make sure to use this as an entry for the Giveaway.
Don't forget about the option for daily entry ("Tweet About The Giveaway")- it is an easy way to increase your number of entries which improves your odds of winning.
GOOD LUCK AND HAVE FUN!
STAY CONNECTED:
[DISPLAY_ACURAX_ICONS]
SUBSCRIBE TO THE NEWSLETTER: