[All of the products featured in this post and "Goodness:Part I" will be given away to one lucky winner in The Lots of Good Stuff Giveaway!]
BE GOOD TO YOURSELF
Being good to yourself- it should be easy- so why do we make it so hard at times? We spend much of our lives feeling that we are inadequate or haven't accomplished enough. We have somehow determined that this defines who we are- but we forget that the value of our life is not measured by achievements. Life is about much more- it is an accumulation of moments, thousands of moments- each with the potential to be something special. Thousands of opportunities to connect, love, share…. Thousands of opportunities for us to be kinder and gentler to ourselves and others. We may never know the extent of the influence that our actions have on others. A simple act of goodness could have an extraordinary impact.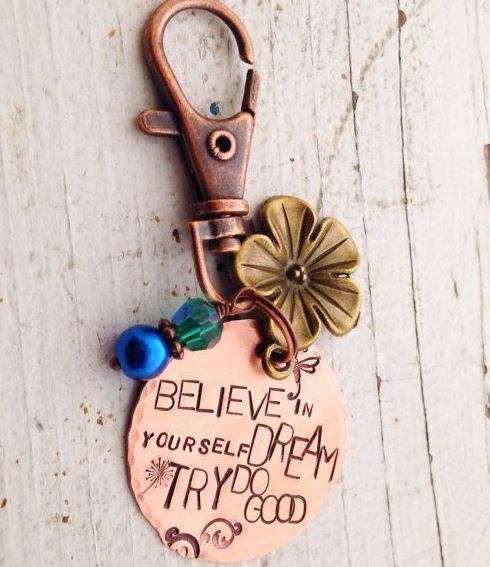 Such beautiful affirmations in this Believe In Yourself Keychain ($17) from Faeriekissage Studio.
Please note The Mindful Shopper does not directly sell the items featured on this blog. Click on the product link to buy, check availability, or learn more about an item of interest.
One of my favorite phrases is Carpe Diem (Seize The Day). After watching the movie "Dead Poets Society" for the first time, I found within myself a strong need to change the way I look at life. I wanted to learn to appreciate each moment, to live life to the fullest, to put my worries aside, to cultivate joy in others, and to make a difference. This has been my personal motto and something I have tried to do ever since this pivotal moment in my life.
This movie had such a powerful impact on me because I was a very serious adolescent and young adult. I worried a lot- about everything. I felt a strong need to be perfect. However, I found that when I focused my attention on Seizing The Day and appreciating each moment- well, that opened up a whole new world to me. I began to understand that life wasn't really just about me and my needs. That in seeing goodness and doing good deeds, I not only brought comfort and joy to others, but I also filled those holes in my soul that had been created by worry and negative self-talk.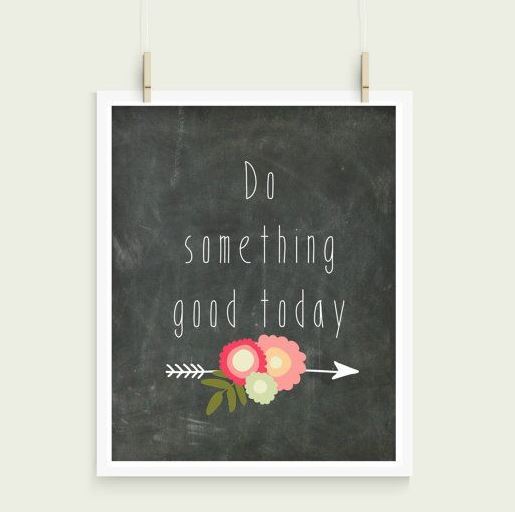 Add some inspiration to your home decor with this lovely Do Something Good Today Chalkboard Digital Print ($4,99) from Inspire Your Art.
SPREAD A LITTLE GOODNESS
Try to look for opportunities to pass goodness on to others. Often it can be as simple as a smile. Or how about taking the time to ask someone how they are doing and genuinely listening to their response? No distractions- ignore those phones and other interruptions. Ask questions. These simple actions take only minutes and can mean so much.
What about being kinder and gentler in your interactions with others? Ohhhh, I know this can be difficult- especially with someone who is rude. Right? The natural reaction is to be rude right back or to huff and puff and let this interaction annoy you for hours. I'm not saying you have to put up with rudeness, I'm just saying pick your battles. Often those who are rude are dealing with something very difficult- they feel ignored- they feel angry. What would happen if you were kind to them?
Goodness is contagious. It rubs off on others. Pass it on- it will come back to you. I promise.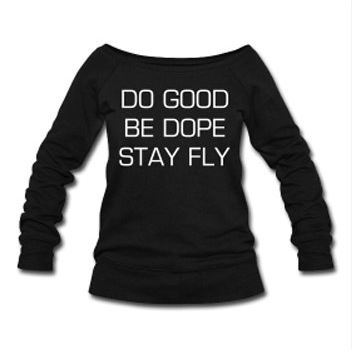 Exactly what I was thinking. The words on this Do Good Off-The-Shoulder Sweatshirt ($45) from AK Apparel are a perfect way to end this post! 😉

Thank you for dropping by The Mindful Shopper! I absolutely LOVE it when you stop by! I hope you enjoyed my post all about Goodness!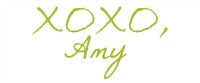 STAY CONNECTED:
[DISPLAY_ACURAX_ICONS]
SUBSCRIBE TO THE NEWSLETTER: