[Page 2 of 2]
The "Get Your Gratitude On" Giveaway
Enter below for The "Get Your Gratitude On" Package Giveaway! One Winner will be randomly drawn from all entries to Win:
1) An awesome Gratitude Journal by Blogger and Artist Monika Wright. She has a super-fun blog called I Love It All. Check out more of Monika's charming journals and mini-books on Etsy by clicking here.
2) An amazing Attitude of Gratitude Bracelet by Jewelry Designer Stephanie Wheeler of Naturally Heartfelt Jewelry from Cornwall, UK. Stephanie creates her pendants, bracelets, earrings, and cuff-links inspired by text found in literature, poetry, and music. Check out more of Stephanie's inspirational jewelry on Etsy by clicking here.
3) A lovely You Are Enough Card by Blogger and Artist Liv Lane. She has a wonderful business featuring fabulous e-courses, a beautiful blog, and touching cards and gifts. Liv is currently taking registrations for her e-course Project Light Year. Check out more of Liv's fantastic cards and gifts on Etsy by clicking here.
4) A Framed Gratitude Poster Print created just for you by me!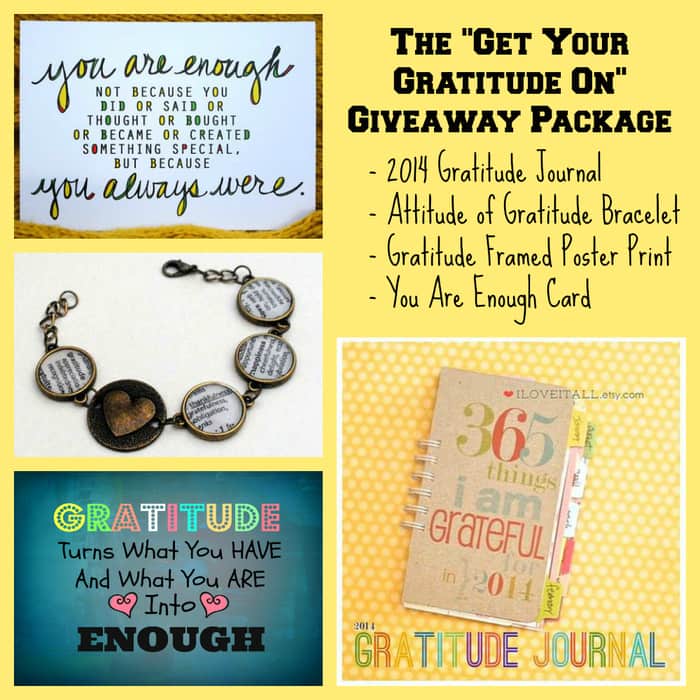 [No purchase is necessary to enter or win. The Giveaway is open to anyone 18 years or older, as of the date of entry. The Giveaway is void where restricted or prohibited by law. The odds of winning this Giveaway depend upon the number of eligible entries received by the deadline of the Giveaway. The Winner will be randomly drawn from the Giveaway entries.]
[Don't miss future GIVEAWAYS, EXCLUSIVE DEALS, and FABULOUS FINDS – click here to sign-up for The Mindful Shopper Email Newsflash.]
Helpful Hints For The Giveaway Entry Form:
There are multiple options for entry in the Entry Form above- you can pick which entry options you want to use, or do all of them

If you have already done an entry option in the past, for example: "like the Mindful Shopper on Facebook"- make sure to use this as an entry for the Giveaway

Don't forget about the two options for daily entries ("Pin From The Mindful Shopper" and "Tweet About The Giveaway")- they are easy ways to increase your number of entries which improves your odds of winning
This giveaway is now closed.
FOLLOW ME:
FACEBOOK | PINTEREST | TWITTER
FREE NEWSLETTER: