Hello Friends! Welcome to my first post of 2014! As each New Year arrives, I spend time reflecting upon my life. This year I came to a very important realization, something that has been life-changing for me! So of course, I wanted to share this with you AND celebrate with a very special Giveaway (the entry form is at the end of this post)!
As some of you know, in 2011 my "life path" took a very unexpected detour. I became very ill with a rare autoimmune disease which has caused my immune system to damage healthy cells in my body resulting in abnormal control of my heart, blood pressure, and blood flow to vital organs. To make matters worse, the medications used to try and prevent further autoimmune damage have caused complications. Because of these medical issues, I have been mostly home-bound (often bed-bound) the last 2.5+ years.
As 2014 arrived and I reflected upon my life over the last few years, I realized that despite my frustrating situation, I was still able to feel moments of true joy, comfort, and inspiration. I wondered how in the world, in a life that was so difficult, was I able to find goodness? I then realized the answer to this question; it all came down to Gratitude.
I was very angry and sad the first few months I was sick. When a friend suggested I try to focus more on the "positive"; I thought maybe this would help me feel better for the moment, but I was sure it wouldn't help in the long-term. Despite my reservations, my husband and I decided to take a moment each night to think of something for which we were grateful for that day.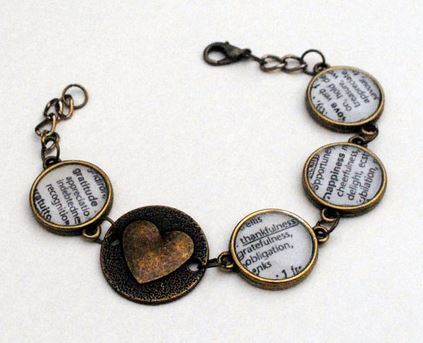 This amazing Attitude of Gratitude Bracelet by Jewelry Designer Stephanie Wheeler is part of The "Get Your Gratitude On" Giveaway. Please see the end of this post for details.
At first it took great effort to see examples of goodness in my life and I had to on some days even make myself see good things in everyday events, small accomplishments, and unexpected places. It took practice to learn to be truly grateful. In time, this search for goodness in my world became a natural process for me, a process that I now find myself doing without needing to think about or plan for it.
Something else became clear to me once I was able to really see the goodness around me. I began to realize in those moments, slowly but surely, there was also a sense of peace in knowing that there was no need to feel as if I was supposed to have or be more than I could be at that time. What an empowering feeling to know that even in such sadness and despair, I can find moments of goodness and in these moments of goodness, there is true peace and comfort in knowing that I HAVE ENOUGH and I AM ENOUGH!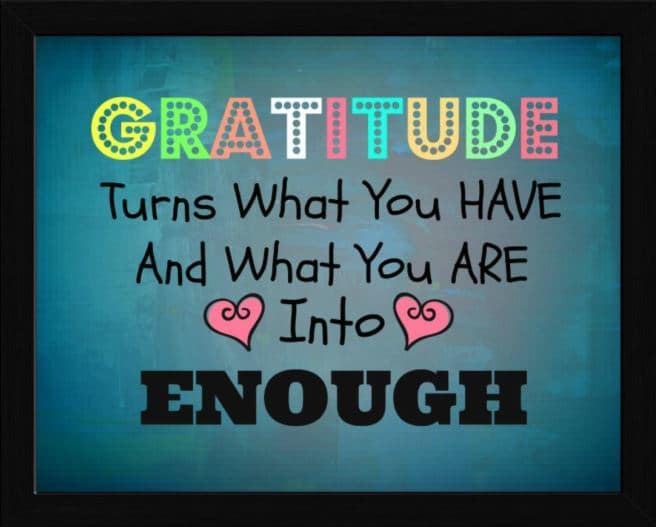 This Framed Gratitude Poster Print by yours truly is part of The "Get Your Gratitude On" Giveaway. Please see the end of this post for details.
Maybe this year you will want to work on being more grateful? It does not have to be something you do "all in or all out". It simply needs to be something you resolve to focus on for a few minutes a day or each week. Doing this process with someone else or writing it down in a journal can be helpful.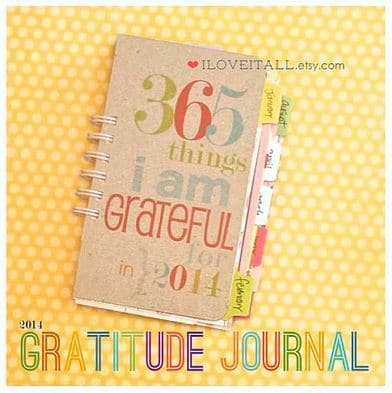 This awesome Gratitude Journal by Blogger and Artist Monika Wright is part of The "Get Your Gratitude On" Giveaway. Please see the end of this post for details.
Being grateful is not always easy. At first it can take a great deal of effort. The important thing is gratitude is something you can learn. This may take time, but it is worth it. This could be a life-changing resolution for you!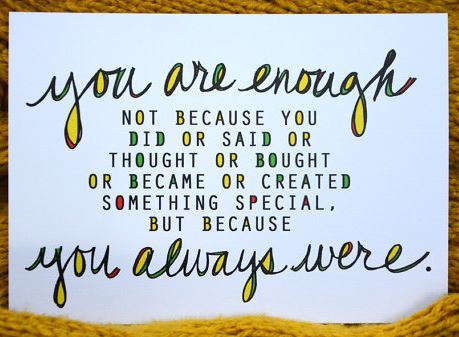 This lovely You Are Enough Card by Blogger and Artist Liv Lane is part of The Get Your Gratitude On" Giveaway. Please see the end of this post for details.
To Each and Every One of You:
I wish you the time and patience in 2014 to find moments of gratitude, and in these moments, the peace in knowing that YOU HAVE AND ARE ENOUGH! 
Love To You All,


FOLLOW ME:
FACEBOOK | PINTEREST | TWITTER
FREE NEWSLETTER: