Christmas Ornaments hold a special place in my heart- something so small but representing so many memories! Special ornaments on a Christmas Tree can bring back treasured memories of joy, peace, and love. Sometimes they can bring comfort from sad memories by helping us to remember that even sad times do pass.
When I was a kid, my beloved Aunts would attach an ornamental treasure to the top of each gift I received from my cousins. When I grew up and went off on my own, I was blessed to own a cherished box full of my very own ornaments, each with a memory of a Christmas past!
So Cheers to the powerful symbol of a Christmas Ornament, whether bought to hold a special place on your glowing Christmas tree or to be given as a treasured gift to a loved one!
Please note The Mindful Shopper does not directly sell the items featured on this blog. Click on the product link to buy, check availability, or learn more about an item of interest.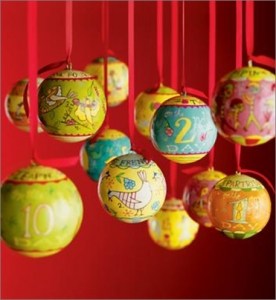 (1) This Twelve Days of Christmas Ornament Set ($44.95 and free shipping) is beautifully hand-painted in a soft pastel palette. Each ornament depicts a different day of the "Twelve Days of Christmas" song through illustrated pictures and numbers. Due to the one-of-a-kind production of this set, each illustration may vary slightly. The set features the whimsical illustrations of San Francisco Artist Michael Mabry. Over the years, I have enjoyed giving this set as a gift.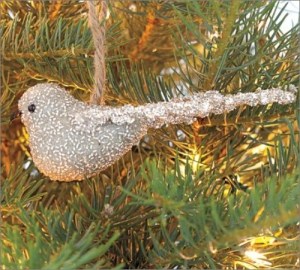 (2) This charming Beaded Metallic Bird Ornament ($8.50, on sale for $6.50) is handcrafted of shimmering glass beads and a natural jute cord. Bird ornaments represent the universal symbol of happiness and joy.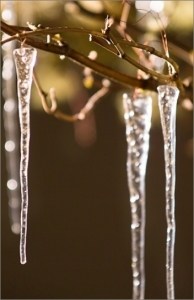 (3) Handcrafted glass is made to look like gently dripping water freezing into sparkling icicles in these Nordic Icicle Ornaments ($64, set of twenty). This set includes twenty radiant icicle ornaments in a variety of lengths from 3″ to 11″ and comes gift wrapped in an Olive & Cocoa® signature wood crate with ribbon.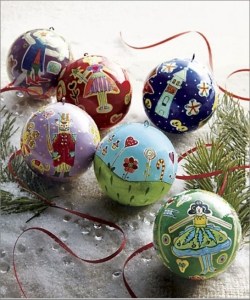 (4) These six heirloom-quality Nutcracker Ornaments (set of six $26.95, on sale for $24.95) conjure up scenes from Tchaikovsky's beloved holiday classic, "The Nutcracker". Each is hand-painted in rich detail with whimsical drawings.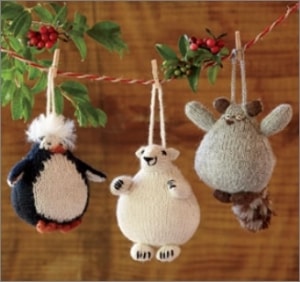 (5) These plump farmyard friends are lovingly made by Peruvian Artisans. These Creature Comfort Wool Ornaments ($39, set of three) come in five adorable characters; penguins, polar bears, raccoons, hens, and sheep.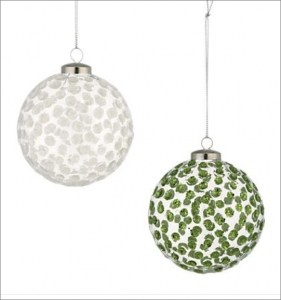 (6) These classy Dimple Ball Glass Ornaments ($9.95, set of two) are handmade with a glittered dimpled texture which appears perfectly round from one angle but shows its oval-shaped profile as it spins.
(7) These angelic Beaded Star Ornaments ($48, set of three) from Garnet Hill are over-sized vintage-style metal snowflakes that glimmer with glass beads and faux pearls. Each set includes a trio of distinctive designs, ranging from 4 1/3″ to 6 3/4″ in diameter on beaded chains for hanging.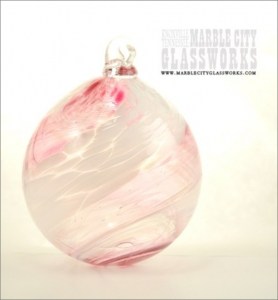 (8) These elegant Hand-Blown Glass Ornaments ($17) feature delicately swirled colors and are made by artists at Marble City Glassworks in Knoxville, Tennessee. Each ornament is approximately 3 to 4 inches. Beautiful!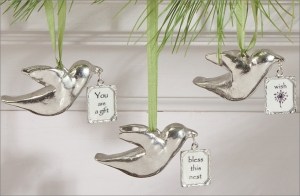 (9) These graceful Pewter Sparrows ($24.95 each) are little birds bearing loving words and blessings ("Wish", "You Are A Gift", "Bless This Nest", and "Peace"). They are designed by California Artist Alise Sheehan, cast in lead-free pewter, and come in a gift box with a hanging ribbon and story card.
(10) These modern Double Glass Sphere Ornaments ($12, on sale for $9) are so unique! These ornaments-within-an-ornament are made of metallic tinted blown glass.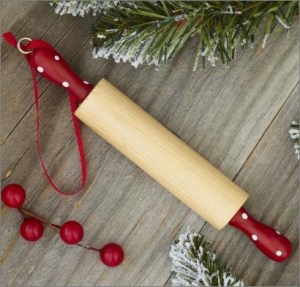 (11) This miniature Rolling Pin Ornament ($4.95, on sale for $3.46) is part of a delightful Chef-Themed Collection by Sur La Table.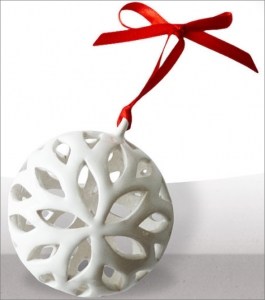 (12) This lovely hand-made glazed Earthenware Christmas Ornament ($27) is crafted by Artist Charlotte Heurtier.  It is perforated with notches cut out one by one and made with an earthenware grip which is adorned with a red satin ribbon.
(Update 12.04.11-  The Earthenware Ornament has sold out. However, please check out Artist Charlotte Heurtier's Page for more wonderful items!)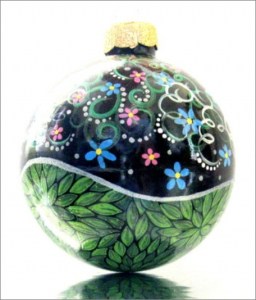 (13) Artist Pearle Northrop makes each of these exquisite hand-painted Glass Ornaments ($65) with love, each ornament taking 4-6 hours to create. They are each one-of-a-kind and come in many different styles and colors. You also have the option to personalize your gorgeous ornament for an additional $5.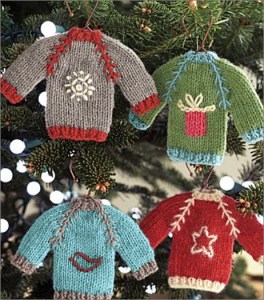 (14) These Miniature Sweater Ornaments ($30 for set of four) are hand-embroidered with a festive motif and hang from a tiny wire hanger.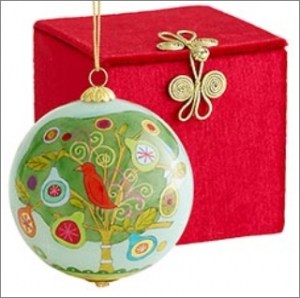 (15) These Li Bien Ornaments ($7.95-$14.95) are created by inserting a tiny brush through a small opening in the ornament, a complex process that can take up to two days per ornament. Each ornament is signed and dated by the artist, then packaged in its own handmade gift box. Designs are available for one holiday season only and never repeated. My husband and I give these ornaments to our dear Goddaughter so that she will someday have her own set of Christmas Ornaments.

Thank you for dropping by The Mindful Shopper! I absolutely LOVE it when you stop by! I hope you enjoyed my post Ornamental My Dear!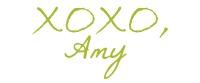 FOLLOW ME:
FACEBOOK | PINTEREST | TWITTER
FREE NEWSLETTER: