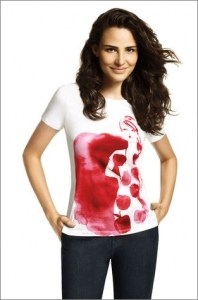 (1) All proceeds from this artful In The Classroom Limited Edition Tee ($20, currently not available) will be donated to Jones New York In The Classroom, a non-profit organization supporting teachers and education.
Please note The Mindful Shopper does not directly sell the items featured on this blog. Click on the product link to buy, check availability, or learn more about an item of interest.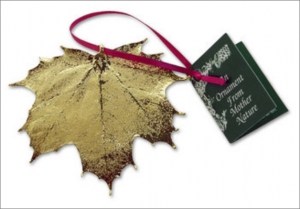 (2) This beautiful Sugar Maple Leaf Ornament ($14.95) from The Nature Conservancy is made from a real maple leaf finished in gold and hanging on a colored ribbon with an attached card. The mission of The Nature Conservancy is to preserve the plants, animals, and natural communities in all 50 U.S. states and 33 countries.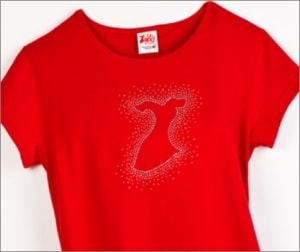 (3) Make a fashion "statement" with this fabulous short sleeve Rhinestud Dress Outline Tee ($30, on sale for $18.50, currently not available). Sales of this classy tee go towards the Go Red for Women Campaign to fight heart disease.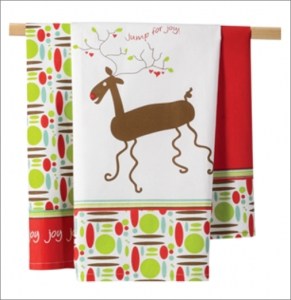 (4) Give these joyful Christmas Kitchen Towels ($13.99) to support diabetes research through the American Diabetes Association. Last year the American Diabetes Association invested more than $33.5 million in research.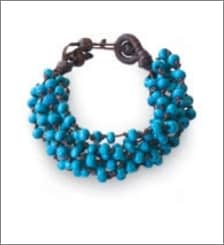 (5) With your gift of $40 or more to the Maximum Impact Fund from World Vision, you will receive this beautiful hand-crafted Thai Bracelet ($40). The funds from this lovely piece of jewelry go to help protect vulnerable girls from exploitation.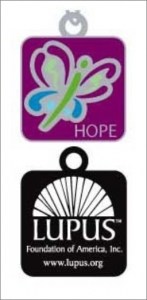 (6) This silver-plated Cell Phone Charm ($4.95) has a colorful butterfly in bright enamel on the front and the Lupus Foundation Association (LFA) logo on the back. The butterfly is the LFA's symbol of hope that a cure will be found for this disease that affects nearly 1.5 million Americans, and more than 5 million people worldwide.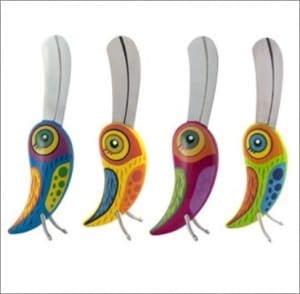 (7) These Stand-Up Bird Butter Knives ($18.95 each, currently not available) feature tropical, fine-feathered friends that will sit upright at their special place on the table. What a wonderful hostess gift for any animal lover! These cheerful table accessories can be bought from the Humane Domain, the official online store of The Humane Society of the United States.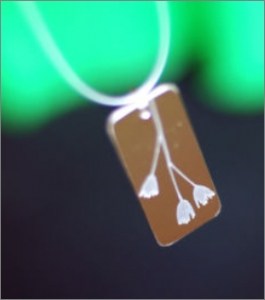 (8) This elegant Aster Pendent ($25, currently not available) is hand-made by Skyler McCaughey, a member of Trillium Artisans. This delightful pendant features a few small aster flowers etched onto a mirror-like surface of polished stainless steel. Trillium Artisans is an innovative, non-profit, green program with a primary goal to assist low-income artisans build sustainable businesses.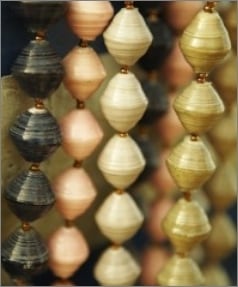 (9) These Robi Necklaces ($32 each) are classy single strand necklaces consisting of thick, round beads and are full of understated beauty. I love these necklaces sold by 31 Bits, a socially minded company designed to give internally displaced women in Northern Uganda an opportunity to counter poverty.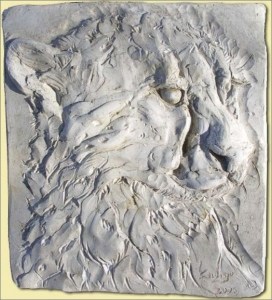 (10) This alluring Cheetah Sculpture (sold out) is hand-crafted by Artist Anij Indigo. This relief plaque measures approximately 6 inches by 6 inches and is mounted for easy hanging. Proceeds go to the Wild Animal Sanctuary, a wonderful refuge for large animals that have been abandoned or neglected.

FOLLOW ME:
FACEBOOK | PINTEREST | TWITTER
FREE NEWSLETTER: