Art & Sole is a beautiful art book created by Jane Gershon Weitzman; philanthropist, accomplished professional, and wife of the famous shoe designer, Stuart Weitzman. This gorgeous book with its gilded edges and red cloth cover is the perfect gift for any shoe lover, fashionista, or art enthusiast. I invite you to take a moment and step into a beautiful fantasy world of shoes created from flowers, crystals, and frosting…
Also, don't miss my interview with Jane Gershon Weitzman and The Art & Sole Book Giveaway at the end of this post!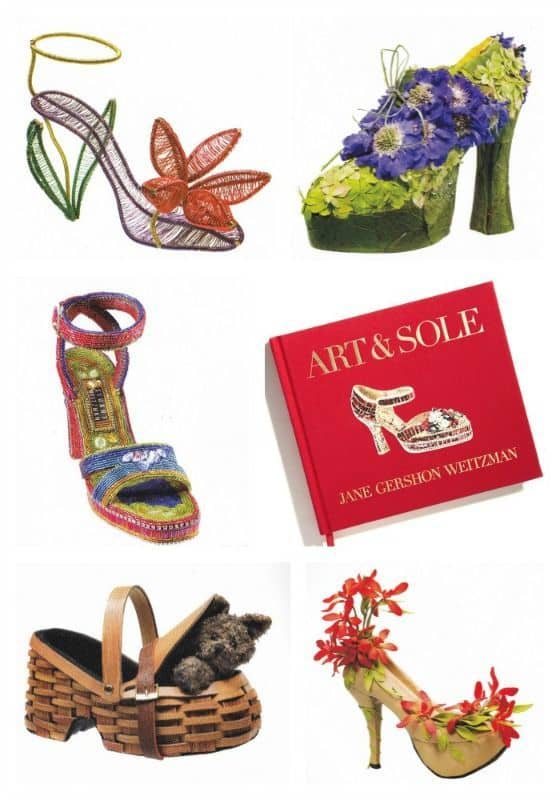 Flower Power by Artist Linda Leviton | Garden Club by Artist Jane Carroll | Bedazzled by Artist Kathy Wegman | Toto by Artist Robert Tabor | Frosted Flowers by Artist Sylvia Weinstock | Photography from Lucas Zarebinski
Disclosure: I received a copy of "Art & Sole" to write this article. All opinions stated are genuine and my own.
ABOUT ART & SOLE
In the winter of 1995, Jane Gershon Weitzman's husband, shoe designer Stuart Weitzman, asked her to help develop the Weitzman brand's first retail shop. She put much thought into the creation of this flagship boutique and took cues from a favorite family-owned business she knew while growing up in Atlanta, Georgia. It was important to her that customers did not feel pressured to purchase items, and shopping at the store would invoke the same "graciousness and warmth" she had experienced growing up in Atlanta. She aimed "to bring some of that southern hospitality to Madison Avenue."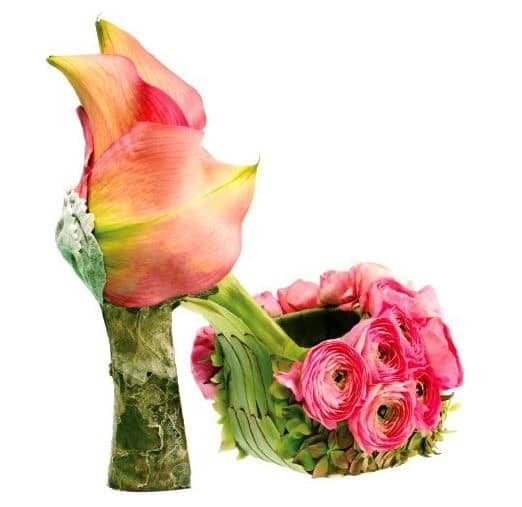 Petal Pusher by Artist Jane Carroll | p.12
Rather than featuring Weitzman products in the store display windows, a standard marketing approach for retail shops, she instead featured fantasy designed shoes commissioned by artists. Soon these unique window displays became a New York City destination for artists and shoe lovers alike. These amazing shoe creations were crafted from uncommon materials including feathers, paper, ceramic, metal, resin, playing cards, corrugated cardboard, Swarovski crystals, crochet, flowers and even frosting. Over the years Jane and her window designer, Timothy Fortuna, worked with artists from around the world to create these special shoes.
Automata V by Artist Douglas Wilson| p.97
Art & Sole features 150 of these fantasy art shoes. The book is the result of "many years of hard work and fun that went into creating those displays." Many of the shoes featured are in printed form for the first time.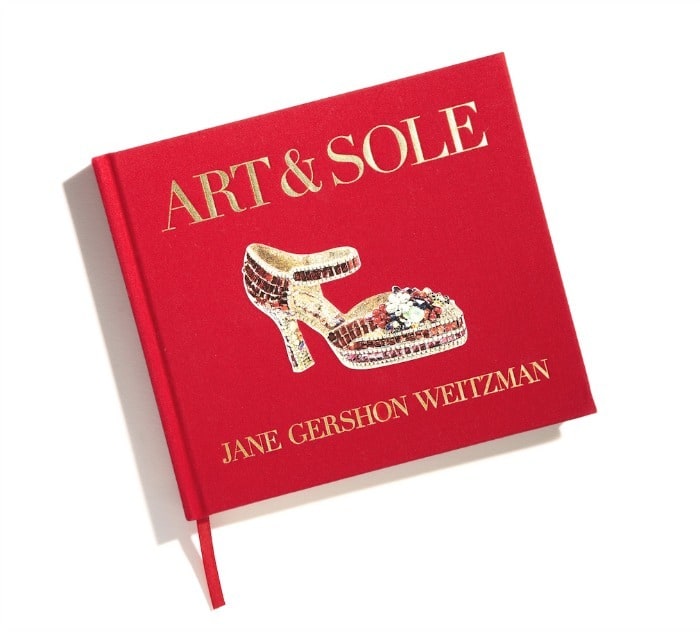 Art & Sole by Jane Gershon Weitzman ($25)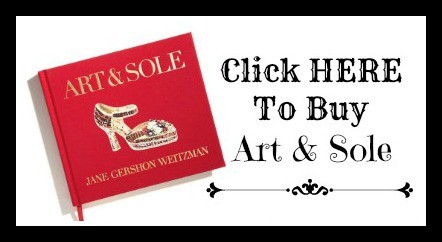 Not only is Jane Gershon Weitzman a driving force behind the Weitzman brand, she has also spearheaded philanthropic efforts to support breast and ovarian cancer research and awareness, including The Stuart Weiztman Celebrity Breast Cancer Shoe Auction. She also serves on the Trust Board of the Boston Children's Hospital.
INTERVIEW WITH JANE GERSHON WEITZMAN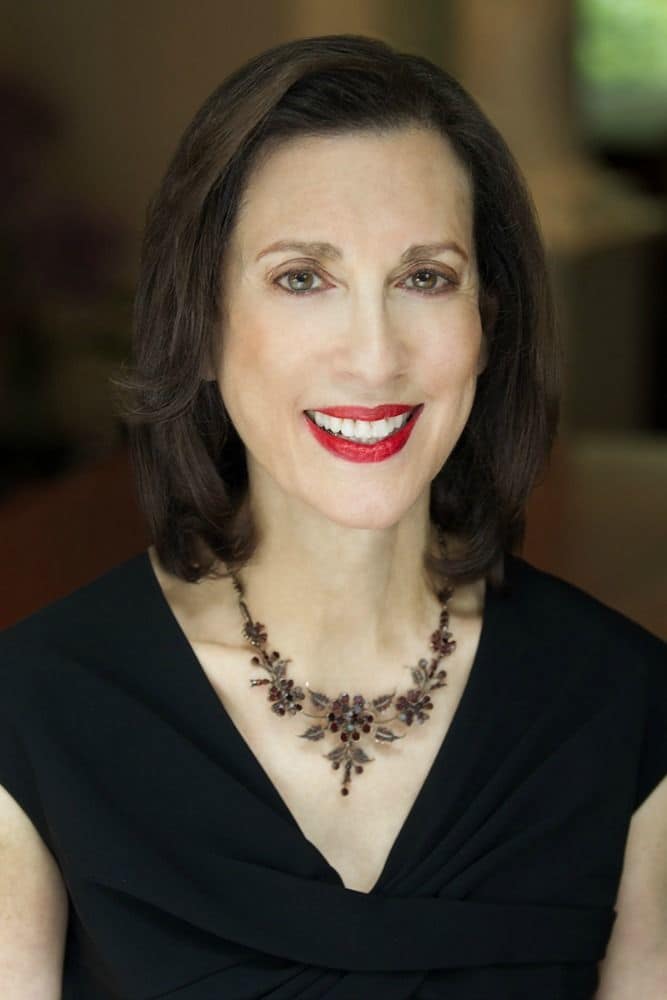 Q. I love that the focus of your retail window displays was on these fantastic artistic shoes rather than the actual retail products. Such a clever and fun way to attract attention. How did you come up with this idea?
A. The window dresser at that time did our first window with shoes made by different artists. We started by adding Stuart's shoes, but later on, I decided to try just the art shoes and people were curious to see what kind of shoes we were actually selling.
Q. Did you initially feel that the window displays could be a risky decision considering most retail shops at that time were featuring their own products in their window displays?
A. I didn't consider it that risky because our sales figures were rising and I knew that I could add our shoes at any time if sales went down.
Q. There are so many amazing shoes in your book. Are you able to tell me about a shoe in the collection that made a special impact on you and why?
A. So many of them made a special impact on me and I am going around the country now speaking about that for different charities. When I first saw Robert Steele's shoes all together in the windows, I was amazed at what someone could create with corrugated cardboard.
Q. I am always interested in the "behind the scenes" stories. Any funny or interesting stories behind any of the shoes in the collection?
A. Yes. When Jane Carroll arrived with her shoes made of real flowers, she showed up with a stonemason who actually built real walls in the windows for the shoes to sit on. I had a wonderful shoe based on a real 1959 car, but the manufacturer refused to give me permission to use it in the book.
Q. My favorite shoes in your book are the Petal Pusher and Garden Club Shoes. Were those shoes created of real flowers? If so, how were they kept fresh during the display?
A. They had to be misted every day and Jane Carroll, whom I have already mentioned, stopped by frequently with fresh replacement flowers. She made the 3 shoes in the book the morning of the photo shoot and they were photographed immediately.
Q. I know you are spending a lot of time traveling and speaking about your book and working on charitable events. Any other projects in the works at this time?
A. I am already accepting bookings for next fall and I have one for spring of 2016, so I haven't even had time to think about another project.
Q. Is there anything else you would like my readers to know about you and/or your book?
A. Just that I hope they enjoy it!

Thank you for dropping by The Mindful Shopper! I absolutely LOVE it when you stop by! I hope you enjoyed this feature of Art & Sole and my interview with Jane Gershon Weitzman!
STAY CONNECTED:
[DISPLAY_ACURAX_ICONS]
SUBSCRIBE TO THE NEWSLETTER: