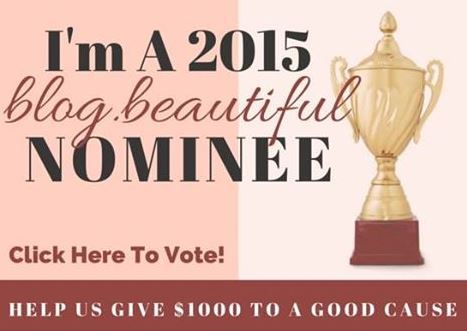 I was notified recently that The Mindful Shopper is one of the finalists for The 2015 blog.beautiful Award hosted by Blogelina (a fantastic resource website for bloggers). Happy dance, happy dance, happy dance! If The Mindful Shopper wins this award, Blogelina will gift $1,000 to the charity of my choice. This is an amazing award and I am so honored my blog is in the finals with such a wonderful group of blogs! Seriously, this is huge!
The blog with the most votes by the end of Friday (February 13th) is the winner. Voting is easy- it just takes 1 click on the Facebook "LIKE" button at the following link: http://goo.gl/tL5kkh
OR

If The Mindful Shopper wins this awesome award, I will be donating the $1,000 to Dysautonomia International. A fantastic charity that assists patients diagnosed with a terrible group of diseases called Dysautonomia. These diseases result from damage to the neurological center that controls all automatic bodily functions, including breathing, heart beat, vision, blood circulation, bladder/bowel control, body temperature, etc.
Many patients with Dysautonomia are unable to stand/walk/sit without dizziness, shortness of breath, and profound fatigue (called Postural Orthostatic Tachycardia Syndrome). At this point, there is no cure for this disease. Many patients with Dysautonomia are very sick, often home-bound. I was diagnosed with it in 2011 and have been mostly home-bound ever since (at times bed-bound).
Not only does Dysautonomia International help support patients diagnosed with Dysautonomia, they also coordinate and fund medical research for this underfunded group of diseases. A $1,000 donation could go a long way to help spread awareness, support patients and families, and help fund medical research.
I would GREATLY appreciate each vote and would be ecstatic if I were to win money for this worthwhile charity!