October is Breast Cancer Awareness Month and I have created a collection of 25 products that support this great cause! Each of these products impacts Breast Cancer Awareness in a special way.
Breast cancer is the second leading cause of cancer death in women. It has touched many of us in some way, some more than others. This post is created to applaud and honor the courage and fortitude of those diagnosed with breast cancer and their loved ones.
Here are some important statistics you should know:
According to breastcancer.org, approximately 1 in 8 U.S. women (just under 12%) will develop invasive breast cancer over the course of her lifetime.
In 2013, an estimated 296,980 new cases of breast cancer are expected to be diagnosed in women in the United States.
An estimated 2,240 new cases of invasive breast cancer are expected to be diagnosed in men in the U.S. in 2013.
Please note The Mindful Shopper does not directly sell the items featured on this blog. Click on the product link to buy, check availability, or learn more about an item of interest.
Gift Items For Breast Cancer Awareness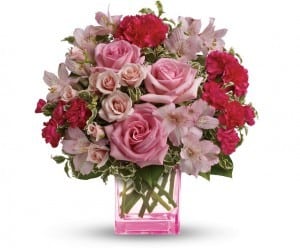 (1) This Teleflora's Pink Grace Bouquet (starting at $54.95) is absolutely gorgeous! I have seen it in person and it took my breath away! This lovely bouquet includes pink roses, pink spray roses, hot pink carnations, and soft pink alstroemeria in a sleek contemporary vase.
Teleflora is partnering with The Mindful Shopper to offer a GIVEAWAY of one of these beautiful bouquets to one special winner. Check out the end of this post to enter…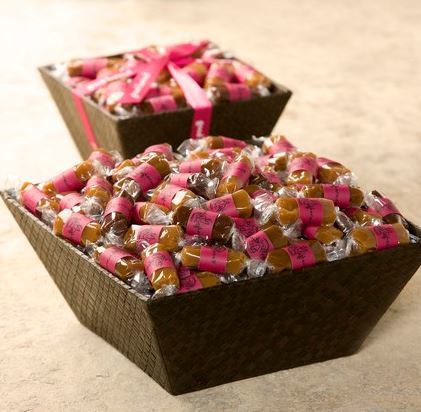 (2) This fun Good Karmal Give Back Gift Basket ($74) features pieces of all natural caramel, with each piece wrapped in a "fortune" inscribed with a quote of wise words. These yummy caramels come in a keepsake basket hand-woven from the leaf of the Pandan tree, a completely renewable resource. Flavors include vanilla, sea salt, chocolate sea salt, pomegranate, espresso, green apple, and chipotle.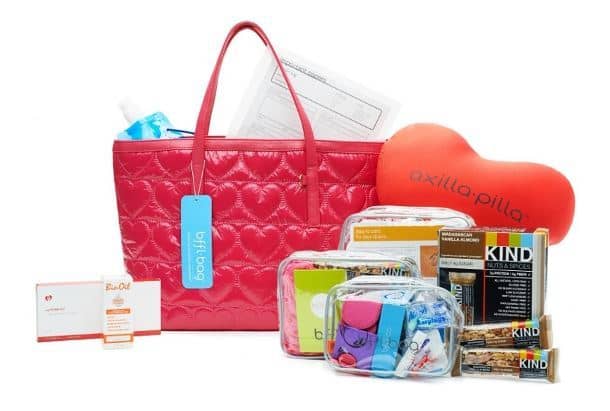 (3) This Limited Edition Breast BFFLBag® ($100) is a wonderful gift to give to anyone you know who has been diagnosed with breast cancer. It includes a beautiful bright pink zippered quilted designer tote packed with essentials for breast cancer surgery recovery (exclusive heart-shaped axillapilla® comfort pillow; mybody® skin care gift pack; Bio-Oil® moisturizing scar treatment; a folder for important papers, cards, and instructions; a box of 12 KIND bars; collapsible water bottle; and more). This wonderful gift is loaded with love, friendship, and healing!
Also, KIND and BFFL Co are collecting letters of encouragement for breast cancer patients. These letters will be combined in a booklet and included in anonymously donated bags that will be distributed at the end of October. You can send your letter of encouragement to be included in this great project to bfflco@kindsnacks.com.
Handbags For Breast Cancer Awareness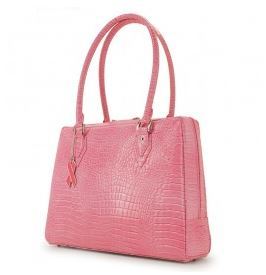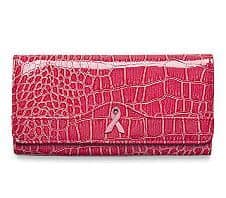 (4) This gorgeous Komen Milano Tote ($129.99) fits laptops up to 16″ and features computer and cell phone protection compartments and a removable accessories wristlet.  (5) This fun Cactus Croco Filemaster Clutch ($38, on sale for $26.60) features an interior file section labeled for coupons, receipts, and cash.

FOLLOW ME:
FACEBOOK | PINTEREST | TWITTER
FREE NEWSLETTER: