My greatest strength is not my ability to write, but today, I am moved to try to write something from deep within myself. I am compelled to share this book with you because it must be shared. I will do my best to arrange my thoughts and feelings into something meaningful. This book, at least, deserves my attempt…
"My thoughts are stars I cannot fathom into constellations." – John Green, The Fault In Our Stars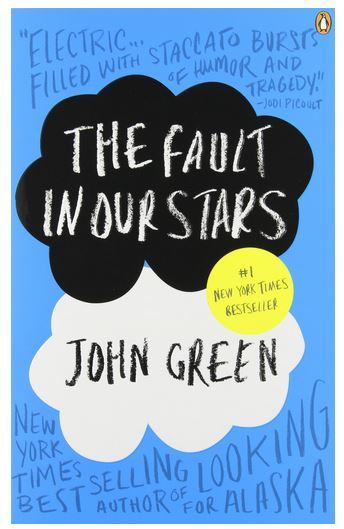 Two days ago my husband brought home the book, The Fault In Our Stars, by John Green. Against my body's plea to get sleep, I stayed up late the last two nights reading it, unable to set down this heartbreakingly beautiful book, unable to release it from my grip in fear that if I stopped reading, then the story would end; while all along knowing that in reality, if I continued to read, the story would eventually end.
As I reached the last few words of the book and realized that indeed the story was ending, I cried. More than I have cried in a long time. I did no such crying the last three years of my life as I struggled with a frustrating autoimmune disease that disabled me and changed my life. But THIS book, this hauntingly lovely and beautifully sad creation, brought me to tears, the type of ugly cry- the gasping for air and a crumpled-up face cry. I found myself clutching this book to my chest and crying for the loss of the characters in this book, while also crying for the loss I was feeling in my life and for the loss in the lives of my loved ones.
Soon this ugly cry became the kind of cry that lets out all of the bad stuff built up inside, the type of cry that releases that toxic sad air that lingers in the lungs. The type of cry that left me at peace, knowing that I was not alone. I was filled with comfort in knowing that with this book, there is now a collective consciousness, of those who might for a moment feel it is ok to cry and realize that they are not alone and that life is precious. I realized that there were lessons to be learned from this book, and that I was not going to miss the opportunity to share them with others.
Here is what I learned:
(1)  Do not be afraid of the legacy you leave and wonder if you have made a difference. Your presence in this world is known and felt by others more than you will ever realize- THIS is your legacy.
"You are so busy being YOU that you have no idea how utterly unprecedented you are."
-John Green, The Fault in Our Stars
(2) The ability to write words that move and inspire others, is an extraordinary gift- not to be ignored or taken for granted.
"Sometimes, you read a book and it fills you with this weird evangelical zeal, and you become convinced that the shattered world will never be put back together unless and until all living humans read the book."
-John Green, The Fault in Our Stars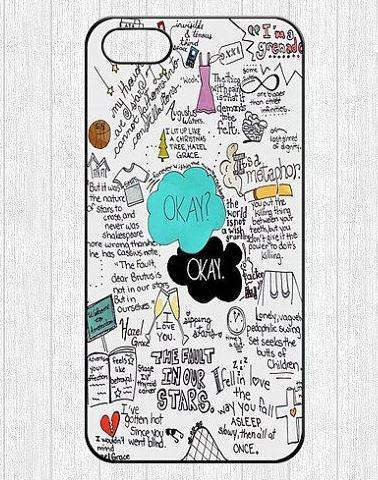 [The Fault In Our Stars iPhone Case by ihomegift.]
(3) You have a choice in how you reveal YOUR story.
"You have a choice in this world, I believe, about how to tell sad stories, and we made the funny choice."
-John Green, The Fault in Our Stars
(4) Those who are sick want to feel "normal", they want to know that life can still have moments of love, laughter, and joy.
"And I wondered if hurdlers ever thought, you know, 'This would go faster if we just got rid of the hurdles."
-John Green, The Fault in Our Stars
(5) We should each have the chance to hear the good about ourselves- to hear our Eulogy BEFORE the funeral.
"You say you're not special because the world doesn't know about you, but that's an insult to me. I know about you."
-John Green, The Fault in Our Stars
(6) Those who are dying want to know that the loved ones they leave behind will be ok without them.
"I wanted to know that he would be okay if I died. I wanted to not be a grenade, to not be a malevolent force in the lives of people I loved."
-John Green, The Fault in Our Stars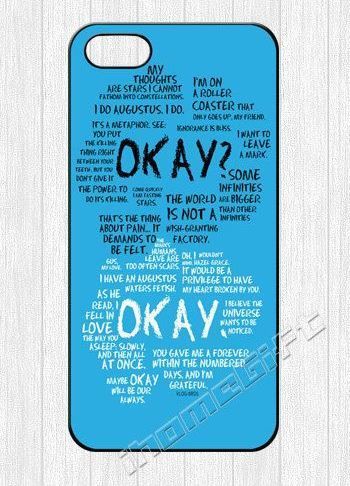 [The Fault In Our Stars iPhone Case by ihomegift.]
(7) Not a single one of us knows the length of time we will be here on Earth- so live your life without fear and appreciate each moment.  
"Our fearlessness shall be our secret weapon."
-John Green, The Fault in Our Stars
"I was blind and heart broken and didn't want to do anything and Gus burst into my room and shouted, "I have wonderful news!" And I was like, "I don't really want to hear wonderful news right now," and Gus said, "This is wonderful news you want to hear," and I asked him, "Fine, what is it?" and he said, "You are going to live a good and long life filled with great and terrible moments that you cannot even imagine yet!"
-John Green, The Fault in Our Stars
"Grief does not change you, Hazel. It reveals you."
-John Green, The Fault in Our Stars
I am celebrating this wonderful book with a fun giveaway of the cool iPhone cases pictured above. If interested, simply click the "Enter Giveaway" button below.
Thank you for dropping by and reading my post Lessons Learned From "The Fault In Our Stars" – it means a great deal to me.

You can also find this post linked here:
[Check out The Link Parties Page for more details.]
Inspire Me Monday
A Little Bird Told Me Wednesday
Life On Lakeshore Drive
Skip The Housework Saturday
Spread The Love
Say G'Day Saturday
Mommy Monday Blog Hop
Snickerdoodle Sunday
FOLLOW ME:
FACEBOOK | PINTEREST | TWITTER
FREE NEWSLETTER: