Advent is a season observed in many Western Christian churches as a time of preparation and celebration for the birth of Jesus at Christmas. The term "Advent" is a version of the Latin word adventus, meaning "coming".
There are many ways to use an Advent Calendar to celebrate the season. Some families use the Advent Calendar to reveal a special daily ornament for the tree. Others use it to share fun treats for each day of Advent. My favorite type of Advent Calendar is one that shares a special question for each family member to reflect upon or gives the family a special action or daily good deed to do in the days preceding Christmas.
I remember the Advent Calendar my family had when I was a kid. I always treasured this tradition. I have searched for special Advent Calendars that your family can use to create your own Advent traditions.
Please note The Mindful Shopper does not directly sell the items featured on this blog. Click on the product link to buy, check availability, or learn more about an item of interest.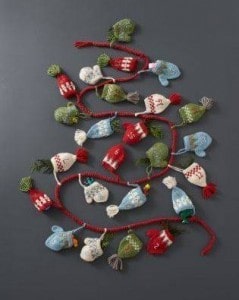 (1) This precious wool Hats and Mittens Advent Calendar ($98) is created of tiny hand-knit hats and mittens inspired by Fair Isle designs. They are embroidered with numbers- ready to count down to Christmas.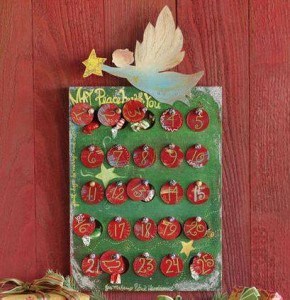 (2) This Holiday Angel Advent Calendar ($198, on sale for $159.99) is a limited edition calendar created by California artisans Jes MaHarry and Patrick Henderson exclusively for Sundance. This Advent Calendar is hand-painted on metal clad plywood and particle board. It features twenty-five numbered "cubbies" with a glittering angel presiding over all.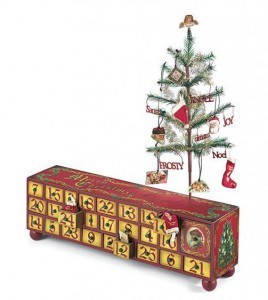 (3) This glittery, vintage-style Advent Treasure Box ($98) features a box of drawers holding delightful mini ornaments that children use to decorate the attached tree (the tree slips inside for easy storage).
(4) This delightful Penguin Advent Calendar (sold out) features a freestanding penguin with front and back pockets. It is made of a soft rayon/wool felt body and a hand-knit wool hat.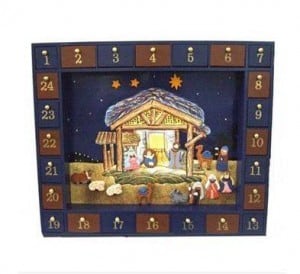 (5) This sweet Kurt Adler Nativity Advent Calendar (sold out) features 24 numbered doors that open to reveal a magnetic figure which is placed on the magnetic starry sky and stable background to create a serene Nativity scene.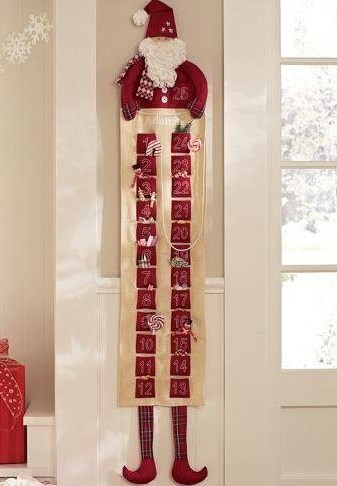 (6) This whimsical Long-Legged Santa Advent Calendar ($39, on sale for $31) features 25 numbered pockets on Santa's very long legs. This fun Advent calendar is sewn of linen with felt and cotton details.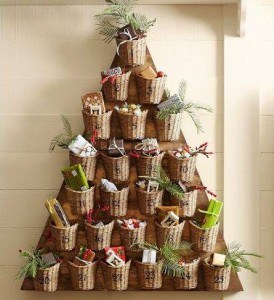 (7) This rustic Tree Advent Calendar ($179) features lovely woven-wicker baskets with painted numbers. The baskets are attached to mango wood touched with a gold painted finish.

FOLLOW ME:
FACEBOOK | PINTEREST | TWITTER
FREE NEWSLETTER: