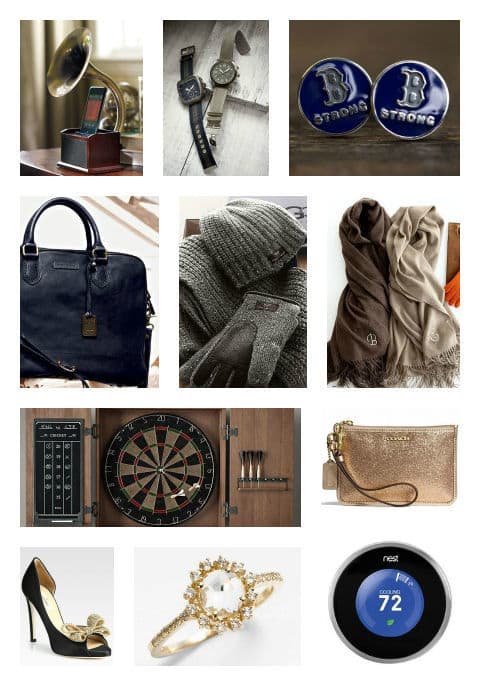 [FIRST ROW] Gramophone Music Station ($149). Gucci Coupe XL Chronograph Watch ($1,295). Custom-Made Cufflinks (sold out) by Artists Chris and Alix.
[SECOND ROW] James Slim Navy Leather Briefcase (sold out). UGG Hat, Scarf, & Gloves Box Set (sold out). Exquisite Cashmere Wrap ($299).
[THIRD ROW] Tournament Dartboard Set ($279). COACH Glitter Fabric Wristlet (sold out).
[FOURTH ROW] Valentino Satin Jeweled Bow Platform Pumps (sold out). Round Antique Bezel Ring by Suzanne Kalan ($770). Nest Learning Thermostat ($249.95).
Please note The Mindful Shopper does not directly sell the items featured on this blog. Click on the product link to buy, check availability, or learn more about an item of interest.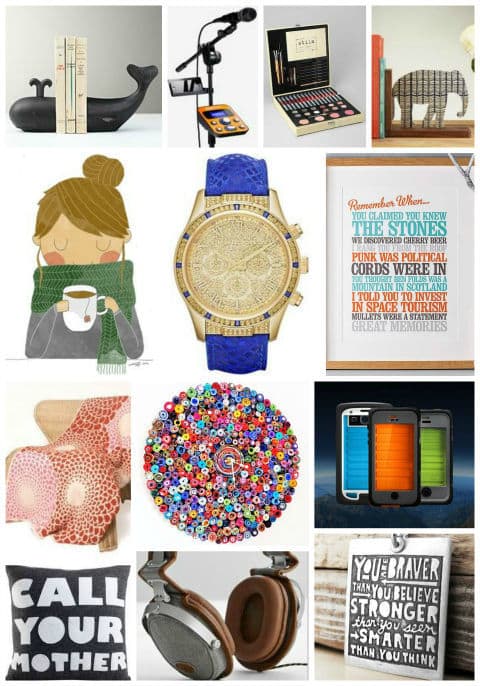 [FIRST ROW] Whale Bookends ($69). Singtrix Party Bundle Premium Edition Home Karaoke System ($349.99). Stila Artist's Signature Palette Set ($185). Rampli Elephant Bookend ($62).
[SECOND ROW] Personalized Custom Illustration ($50) by Artist Laura Caldentey of Lauryn Green Illustration. Michael Kors Women's Blue Leather Watch ($350). Personalized 'Remember When' Print ($64.65).
[THIRD ROW] Eco-Friendly Zinnia Throw Blanket ($165). Colorful Eco-Friendly Recycled Magazine Wall Clock ($160) by Artist Shannon of Shannybeebo Home Decor. Otterbox Armor Series Phone Case ($150).
[FOURTH ROW] Call Your Mother Eco-Friendly Pillow ($125). House of Marley Headphones ($149.95). You Are Braver Than You Believe Necklace ($64) from Lulu Bug Jewelry.

Thanks so much for stopping by and checking out these Splurge-Worthy Gifts!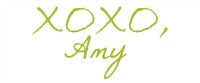 FOLLOW ME:
FACEBOOK | PINTEREST | TWITTER
FREE NEWSLETTER: