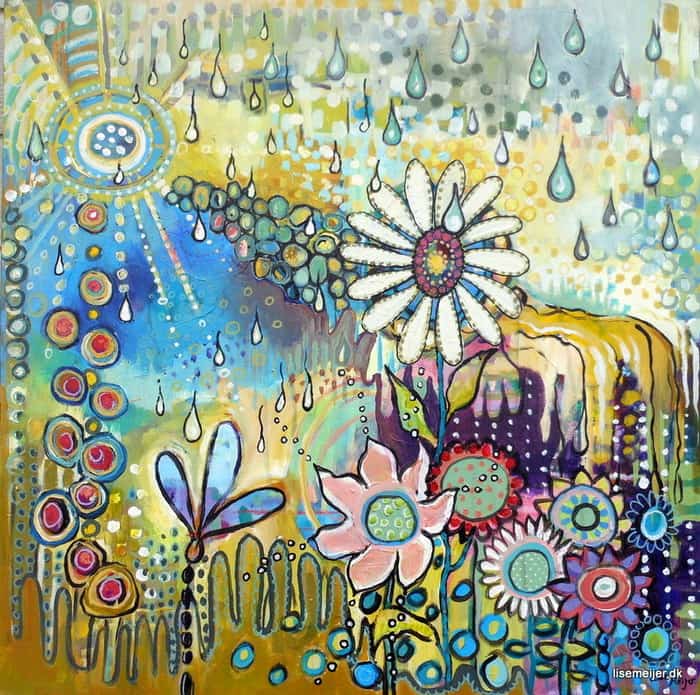 [Sunshower by Artist Lise Meijer]
Today is an important milestone for me – I get to reveal the beautiful artwork Artist Lise Meijer created just for The Mindful Shopper. I am so excited to share these wonderful pieces with you and to introduce you to Lise, an extraordinary artist!
To celebrate this milestone, I am hosting a GIVEAWAY! Please see the end of this post for details…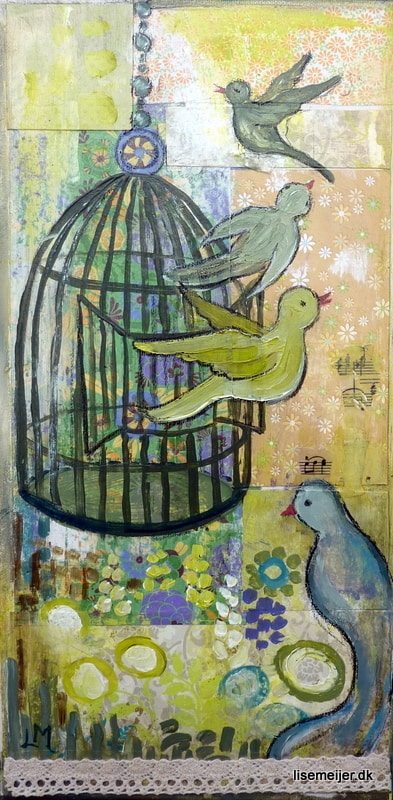 You Can Fly Print ~$21.40
I feel very lucky to have come across Lise's work early on during my creation of The Mindful Shopper. Her work was one of the inspirations in the development of this website. In fact, when I discovered her artwork over a year ago, her touching pieces introduced a whole new world to me. I became aware of the importance of handmade items and artwork. There is something very special about owning a piece of artwork, something you know was created by another person, full of their spirit and meant to bring you joy and comfort.
The moment I discovered Lise's artwork, I felt a strong connection to her and her work. I was amazed with her ability to incorporate and blend such beautiful colors and textures.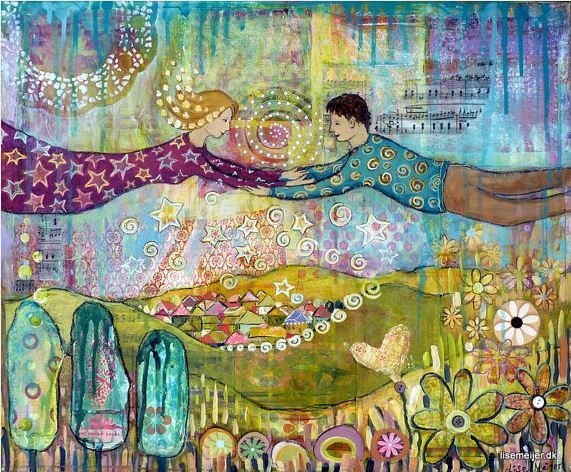 Match Made In Heaven Print ~$21.40
Lise was born in Denmark. As a child, she had an early interest in all things beautiful and joyful. She remembers "playing fairies with [her] best friend or sitting for hours drawing images of fairy-life with mushroom houses and grasshopper coaches". 🙂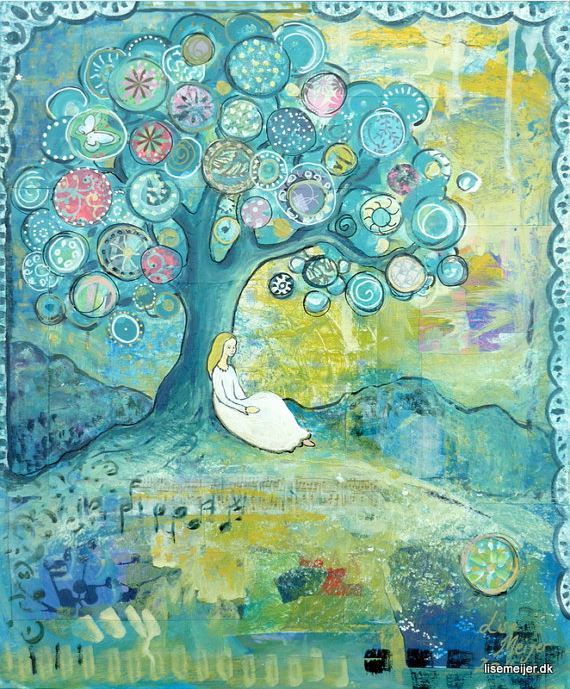 Dreamtree Print ~$21.40
Lise currently lives in Denmark, in the south of Sealand (also known as Zealand) the island where Copenhagen is located. She is married to her caring and supportive husband, Rune, with their two children, Celeste (9) and Vincent (6). "As a family we love music, singing, dancing, storytelling and cozy time spent with good friends."

Dancing with Life Print ~$21.40
As a young person Lise realized that she had a creative gift; however, she recalls that she had to realize "that to have a gift is one thing. To DO something with it is another."

Finding Oneself Print ~$21.40
Even though she has been a creative force since childhood, she has only created pieces for sale the last two years. In that short amount of time, she has developed a great following and has been extremely productive, creating 45 paintings and has been featured in 8 exhibitions. She has also created her own series of cards and posters. Her art has been published in 3 magazines and on several blogs.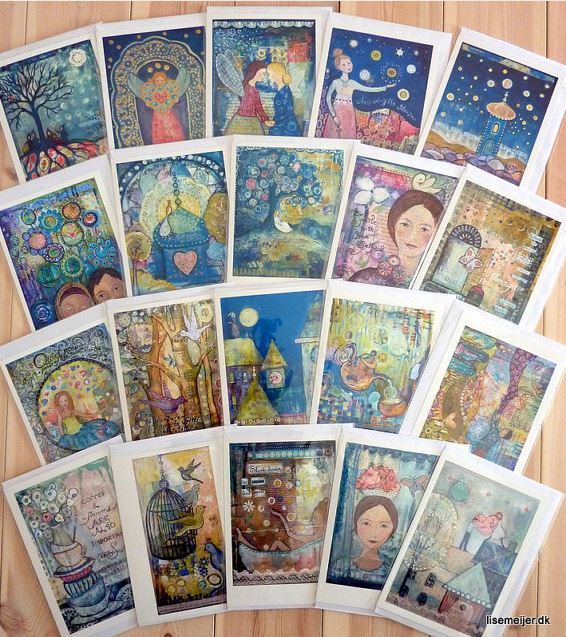 Card Collections (starting at ~$25.00)
Lise is inspired by simple truths; "things that lift human beings to more than we thought we could be."  She makes a special effort to always have her eye on beauty, wherever she goes.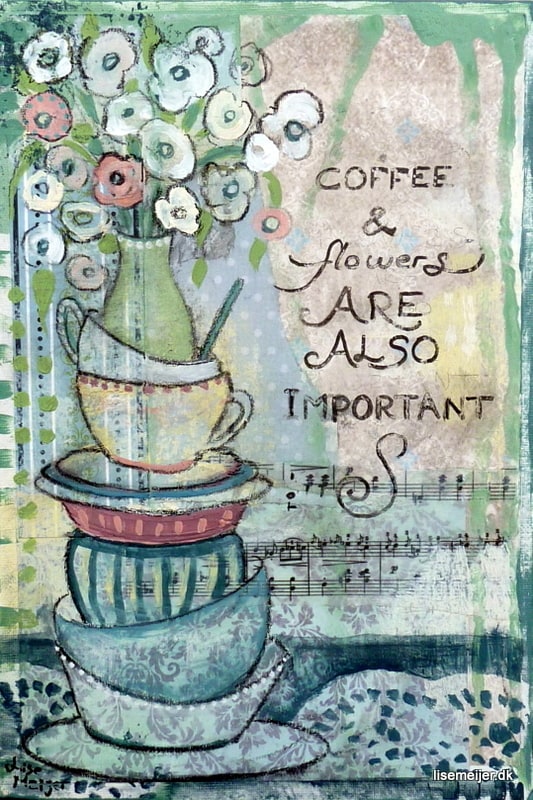 Coffee and Flowers Print ~$17.00
When asked about what she is proud of, she mentions, "I am proud of listening carefully to my inner compass, and of dedicating myself to learn the doing part, thereby giving my creative passion in life not only a chance, but a real vitamin-boost!" But more than anything, she is proud and thankful "that by acting on my longings to create, I began believing in my natural value as a contributor of art in this world."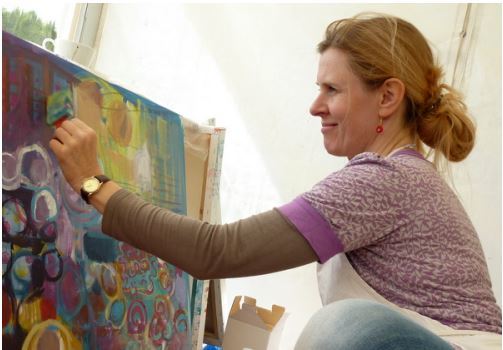 Not only are Lise's art pieces extremely special, Lise herself is a wonderful and multi-talented person (artist, song writer, blogger, illustrator, teacher). She evokes pure kindness in all that she does. She had become a true friend to me. I am very happy to share her and her extraordinary work with my readers.
How To Purchase Lise's Artwork
Cards and Posters:
-You can purchase these on her shop on Etsy. Payment is easy via pay-pal. Her items can be shipped all over the world.
-A number of shops in Denmark and Holland now carry her products, check her website for details. She is expanding the retail sales internationally, so let her know if you would like to see her cards in your favorite local shop!
Original Paintings:
-Contact Lise via e-mail and she will send you a pricelist and answer any questions you may have about available paintings. She happily ships internationally. Her original paintings can be found on her website.
Fantastic Giveaway of Lise's Artwork!

Good Luck and Thanks For Stopping By!
I hope you enjoyed this post all about Featured Artist Lise Meijer!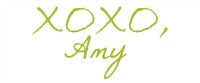 FOLLOW ME:
FACEBOOK | PINTEREST | TWITTER
FREE NEWSLETTER: