Answer Your Door With A Smartphone?
SkyBell, offered by the company with the same name, is a high tech Wi-Fi video doorbell featuring a video camera, motion sensor, microphone, and speaker allowing you to see, hear, and speak to your visitors from an iOS or Android mobile device – anywhere in the world.
I received a sample SkyBell for review purposes. I am also a SkyBell affiliate which means I receive a small monetary compensation (with no pass-on cost to you) for any SkyBells purchased through links on my website. All opinions are genuine and not influenced by this compensation.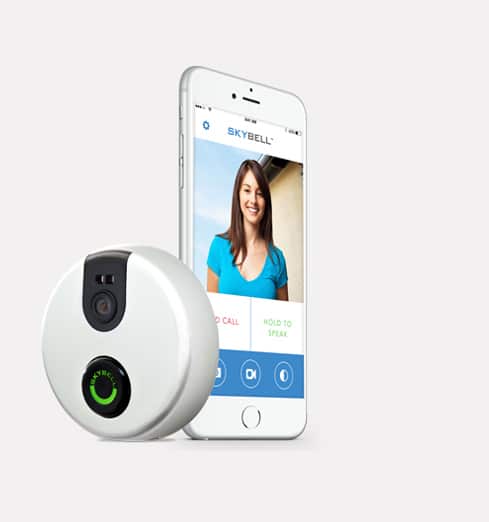 What Is SkyBell?
SkyBell is a high tech Wi-Fi video doorbell that incorporates award-winning technology to keep you connected with all activity outside your front door, providing convenience and peace of mind. It features a video camera with night vision technology, exclusive motion sensor, microphone, and speaker allowing you to see, hear, and speak to any visitor from your mobile device.
[tweetthis url="http://goo.gl/7MPm2E"]The #SkyBell doorbell lets you see, hear, & speak to visitors from anywhere in the world! #Ad[/tweetthis]
How Does SkyBell Work?
A visitor presses the doorbell button and SkyBell sends you an alert
See, hear, and speak to your visitor through the free phone app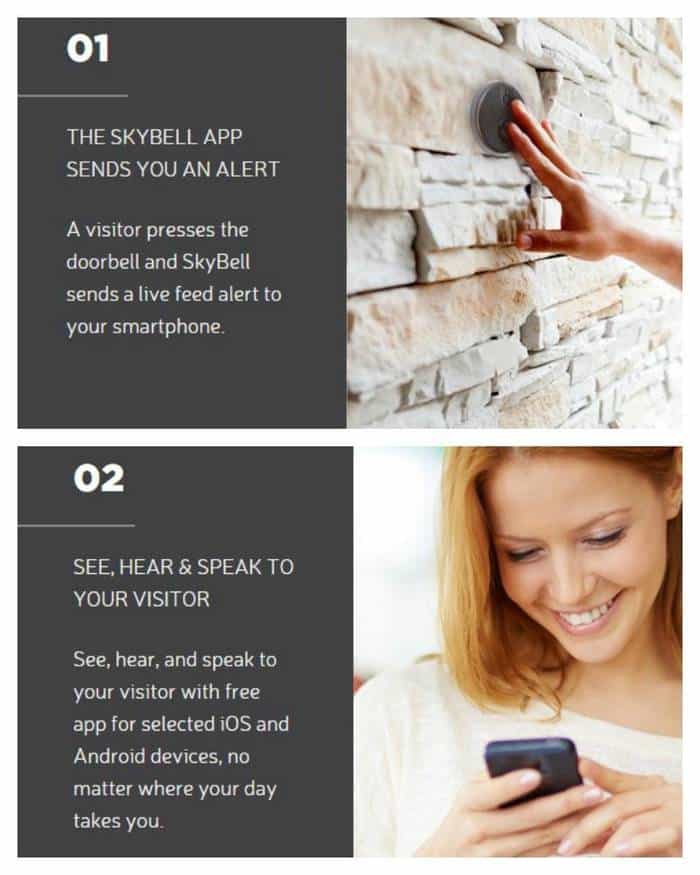 SkyBell Wi-Fi Video Doorbell Features:
Motion Sensor: Receive alerts even without activation of the doorbell
On Demand Access: View live video feed from the smartphone app
Video Chat: Communicate with visitors from anywhere
Night Vision: Uses infared night vision
Wide Angled Lens: Large viewing area
Rugged: Operates at a wide range of temperatures (-40 to 150 degrees F)
Waterproof: Designed to work in harsh environments
Server Recording: Watch recorded video when you can't answer the door
Silent Mode: Turn off door chimes from your app
Snapshot: Takes pictures of visitors and saves images to your mobile device
Available In Two Styles: Brushed aluminum and oil-rubbed bronze
Theft Guarantee
Made in the USA
The previous owners of my home installed a wireless doorbell, and unfortunately I was not able to access the original doorbell wiring for installation of the SkyBell. So, I entrusted this product review to my brother and next-in-line gadget lover, Eric, having full faith and confidence that he would provide an objective review.
The Gadget Guy Review:
Q1: How easy was it to install the SkyBell and to use the technology?
A1: The install was very simple with easy to follow instructions. My only suggestions for someone installing it would be:
The extra base plate (angled plate) needs to be placed before you hook up any wires. I hooked it up first and realized I needed the angle plate, so I had to unhook the wire connectors and use new wire connections. (There were two sets of connectors, so I figured SkyBell assumed people would do what I did, so it was nice having extra connectors.) Perhaps they could re-engineer the angled plate to snap on without having to rewire it again?
To get the bell working you have to sync it to the app on your phone. You do this by entering a code from the bell into the app. The problem was that in the directions they have you install the bell, then download the app. Guess where the code is? Yup, on the back of the bell. I had to take it off the wall, turn it over, and enter the code into the app.
As for use of the technology, it was a snap from the minute I opened it. Very easy to understand the app.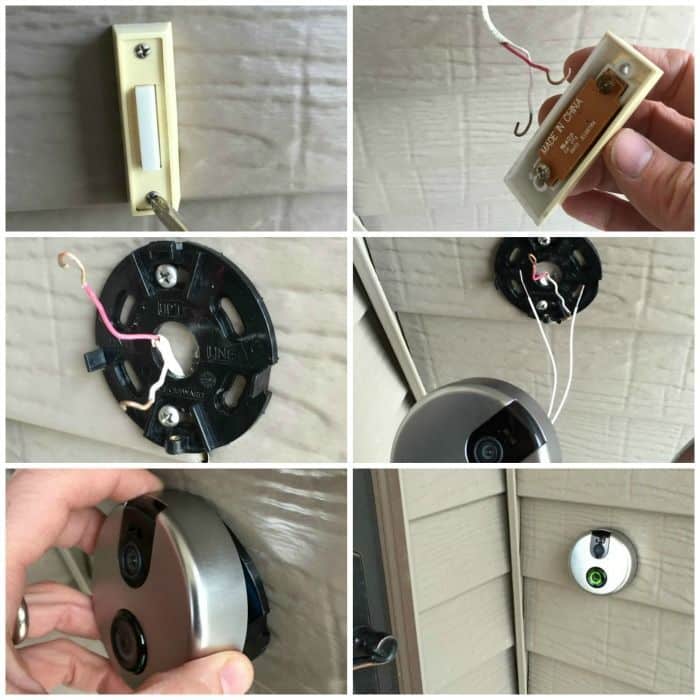 Q2: What are your favorite aspects about the SkyBell?
A2: Favorite aspects:
Being able to see (from anywhere) who is at my door. The afternoon of install, we went to a football game. My phone buzzed, and I looked down and saw one of the neighbor kids was there!
Talk to the visitors! I was able to tell the kid at the door we were gone, but we would be back soon to play. (You should have seen his face! Ha, ha)
Disable the chime inside the house, serious? Yes! I didn't even think about it till nap time this weekend and every kid on the block was coming over and ringing the bell!!! I noticed the "disable chime" toggle switch and instantly turned off the inside chime in the house. Wow, cool!
Motion activated. It rings on your phone if someone stands in front of the door for more than 10 seconds.
Stores video of every activation.
Q3: How could SkyBell improve your life?
A3: Ease/peace of mind.
Q4: Any suggestions for SkyBell regarding things they can improve upon with future updates/versions of this technology?
A4: Personally, at this time I would not pay $200 for a security doorbell, I have more pressing things I need to buy for $200. (Note: I live in a neighborhood with almost no crime or solicitors.) The video quality is poor, but I did some research on the video feed from the SkyBell and it looks like some other smart doorbells may have better cameras, but their video lags because it is transferring too much data. So it's basically a compromise.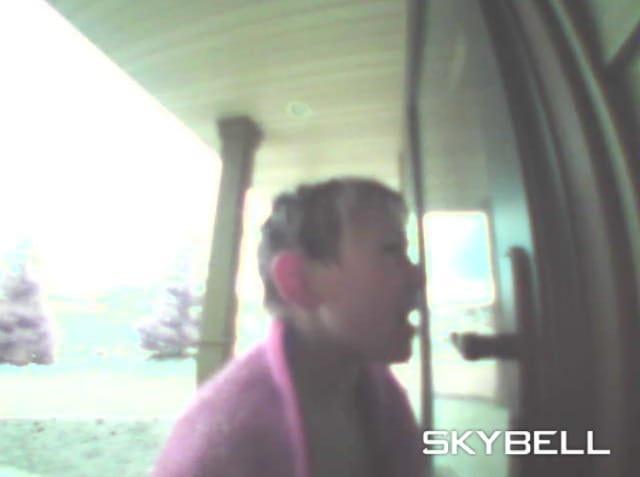 Final Thoughts:
Gadget Guy Eric has been having a lot of fun using the SkyBell and is finding it very useful. "One of those things you would never think you needed until you had one." Install was very simple with easy to follow instructions and only two minor issues (mentioned above) that could easily be addressed by SkyBell.
In my opinion, the price of the SkyBell is well worth the piece of mind. I do share Eric's opinion with respect to the video quality. However, as discovered by Eric in his research, other smart doorbells may have better cameras but the video feed often lags. So basically it is a compromise between on demand/live feed video vs a higher quality video.
Both Gadget Guy Eric and I would recommend the SkyBell to others.
How To Purchase A SkyBell:
You can learn more about or purchase a SkyBell by clicking here=>Sky Bell Homepage
Thank you for dropping by The Mindful Shopper! I absolutely LOVE it when you stop by! I hope you found this review of SkyBell helpful.
STAY CONNECTED: