[Page 2 of 3]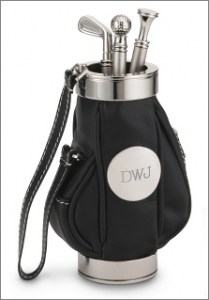 (11) Dad won't have to search for desk tools anymore with this Personalized Black Golf Pen Set ($35, on sale for $29.99). This fun set includes a black & silver leather "golf bag", a black-ink ballpoint pen with a golf ball shaped tip, a matching mechanical pencil (0.7 mm lead) with a golf club shaped tip, and a silver-tone letter opener in the shape of a golf tee. The golf bag features an engraving plate; each tool can also be engraved.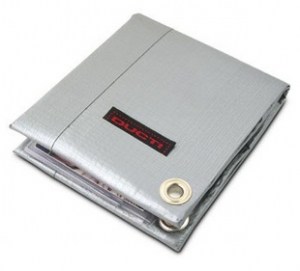 (12) This fun Duct Tape Wallet ($14.99) makes me smile. I can remember my Dad using duct tape to fix almost anything (including his slippers :)).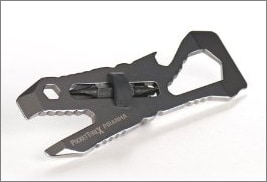 (13) The PocketToolX Piranha Multi-Purpose Pocket Tool ($35) is a single-piece, multi-purpose pocket tool that is constructed from heat-treated and corrosion-resistant stainless steel. This simple but innovative tool functions as a wrench, screwdriver, bottle opener, pry tool, scraper, and a box opener. It is also TSA-compliant so there is no need to worry about it when Dad boards his next flight.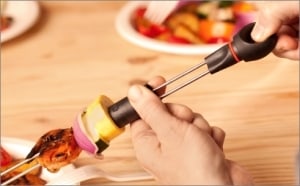 (14) Dad will love this new grilling gadget. These heat-resistant Sliders ($24.99, set of 4) are double-prong skewers that keep food secure while grilling. When done grilling, the sliders easily guide food off the skewers while keeping hands clean.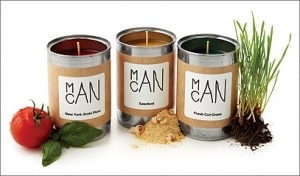 (15) Just in case Dad feels left out. These cool Man Candles ($14) are the invention of Hart  Main, a 14-year-old boy. He has designed these soy-wax-blend candles with the familiar aromas that any man (or woman) would enjoy. Hart's current lineup includes natural, nostalgic, and savory scents like dirt, fresh cut grass, sawdust, campfire, pizza, and coffee. Each hand-made Man Candle comes individually packed in a gift box.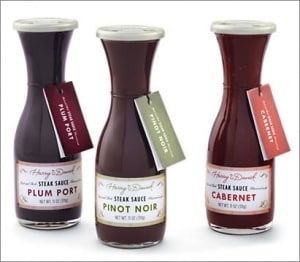 (16) If Dad likes wine and a good steak, he will love this gourmet Steak Sauce Gift Set ($29.95) which includes these delectable steak sauces: Port Plum Steak Sauce, a port based sauce featuring the deep flavor of the damson plum; Cabernet Steak Sauce, featuring green pepper and herb traces of Cabernet wine; and Pinot Noir Steak Sauce, featuring distinctive Pinot Noir flavors like black cherry and currant.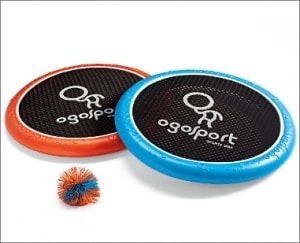 (17) Dad will get a kick out of this new OgoDisk Hand Trampoline Game ($34.99, not currently available). Each OgoDisk Hand Trampoline changes the game of catch—it bounces and throw balls up to 150 ft. Find a net, and Dad can play his own version of volleyball, badminton, paddleball, or tennis. Dad can also take it to the pool and use it with water balloons (it floats), or toss it in the air like a flying disk. The colorful OgoSoft ball is light and kid-friendly (ages 3+). The game includes two hand trampolines and a ball.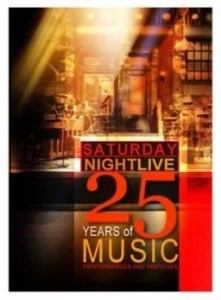 (18) If Dad is a SNL fan, he will surely cherish this Saturday Night Live: 25 Years of Music DVD ($53.99, set of five DVDs). This landmark DVD collection features nearly 60 live, one-of-a-kind performances as well as the best in musical parodies and sketches featuring the legendary SNL stars and signature characters. (Use code DAD15 to save 15%.)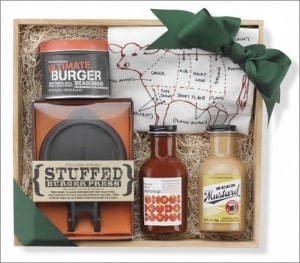 (19) Yum! This Williams-Sonoma Burger Gift Set ($49.95, not currently available) includes: a Stuffed Hamburger Press which shapes perfect patties, and makes it simple to stuff them with savory fillings; Ultimate Burger Seasoning made of Worcestershire, roasted garlic, parmesan, and porcini mushrooms; Bloody Mary Ketchup made of Worcestershire, horseradish, and a hint of celery seed; and Sweet & Smoky Beer Mustard blended of microbrewed pale ale, smoky chipotle chilies, and bold spices.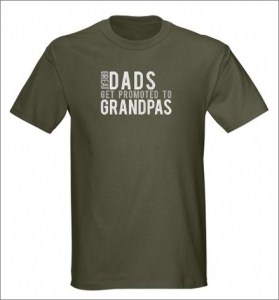 (20) Grandpa will love this "Great Dads Get Promoted To Grandpas" T-Shirt ($17). This high-quality T is pre-shrunk and 100% cotton, which makes it both comfortable and durable. (Use code DADDY30 to save 30% today.)