In this blog post you will learn why you should create a blog media kit, what should be included in your media kit, and a simple way to create an amazing blog media kit to help you stand-out in the crowded blogosphere.  
How To Easily Create An Amazing Blog Media Kit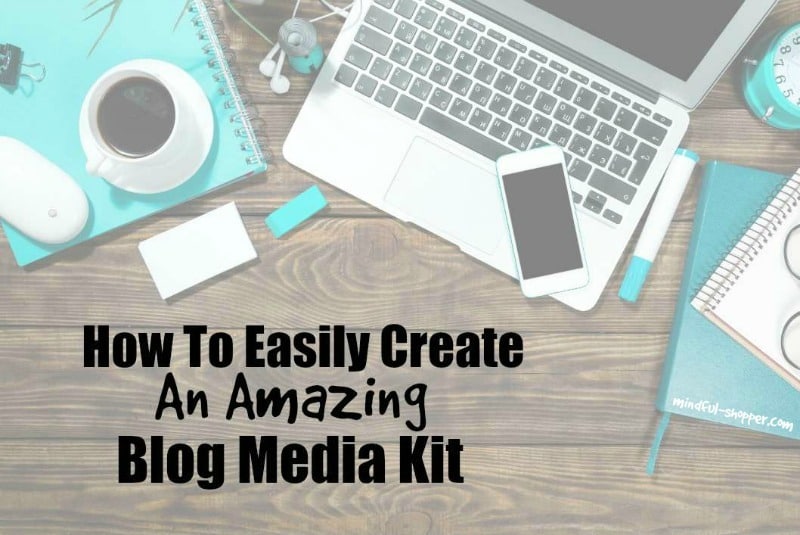 What Is A Blog Media Kit?
One of the key tenets in marketing is the importance of having an "elevator pitch" ready at all times. This is a concise and organized speech used to highlight your business. When building a blog, a media kit is your elevator pitch on paper; an organized, concise, eye-catching document used to attract potential advertisers/sponsors.
Why Create A Media Kit For Your Blog?
A media kit is essentially your blog's resume. It is used to highlight the best aspects of your site, the purpose of your blog, audience demographics, and blog statistics. It is a tool to help you stand-out to potential advertisers/sponsors and to get your blog in front of your favorite brands.
[tweetthis url="http://goo.gl/YnF2aj"]ATTN #BLOGGERS! A #mediakit helps you stand-out to potential sponsors. Easily create one here=>[/tweetthis]
A beautiful, organized, and eye-catching blog media kit shows potential advertisers and sponsors you pay attention to detail and take pride in your work. It also shows you closely monitor the statistics and growth of your website and have a good sense of your blog's audience.
Blogs of all sizes can benefit from a media kit. A small blog can use a media kit to highlight its unique aspects which can help it stand out from larger blogs. A media kit is a must for all medium-large sized blogs. Not only does a media kit help a blog of any size stand out from the rest, it is also a nice tool to hep you screen potential advertisers/sponsors.
Important Tips For Creating A Blog Media Kit:
It is important to create a media kit that is organized, easy to read, and to-the-point. A 1-3 page media kit seems to work best. I also recommend that your media kit be in a PDF format and not a Word document so that advertisers/sponsors can open it easily (Word documents can sometimes lose formatting when transferred from one computer to another). You will want to provide access to your media kit through your blog (it is often placed under a navigation tab titled "PR/Media Kit", "Work with Me", or "Advertising"). Try to coordinate the colors and style of your media kit with that found in your blog.
Key Information To Include In Your Blog Media Kit:
Your blog name, logo, and tagline
An "about me" section (include your photo)

Consider including:

where you are from
why you blog
your interests/passions

An "about my blog" section

Consider including:

blog theme
topics covered
purpose of your site

A "services provided" section, including such things as:

Sponsored posts
Brand ambassadorships
Giveaways
Banner and/or text ads
Product and/or service reviews
Social media promotions

An "important statistics" section (if you are a new blogger, consider focusing on percentage of growth per month)

Unique visitors/month
Pageviews/month
Subscribers
Social media followers
Consider also including:

A "brands worked with" section (it looks nice if you use the brand logos)
A "reader demographic" section including such things as:

Gender
Age
Interests
Location
Income ranges
Highest education completed

A "contact me" section (consider including hyperlinks)
Additional items to consider adding to your blog media kit:

Popular photos (especially if you are a food, DIY, travel, or photography blogger)
Giveaway, advertising, and sponsorship policies
Blog posts per week
Popular posts
Regular blog features
Testimonials
Awards and honors
Media features
A call to action (CTA)
How YOU Can Easily Create An Amazing Media Kit:
I know I have provided you with a lot of information and you may be feeling a bit overwhelmed at this point. No worries- I have good news for you! I recently discovered an easy way to create an amazing and eye-catching blog media kit using media kit templates from HIP Media Kits. These fully-customizable templates make creating an amazing media kit easy and actually fun (seriously)! 🙂 Each HIP Media Kit Template ($24.99) includes the color options noted below (you can further customize them using Microsoft Word).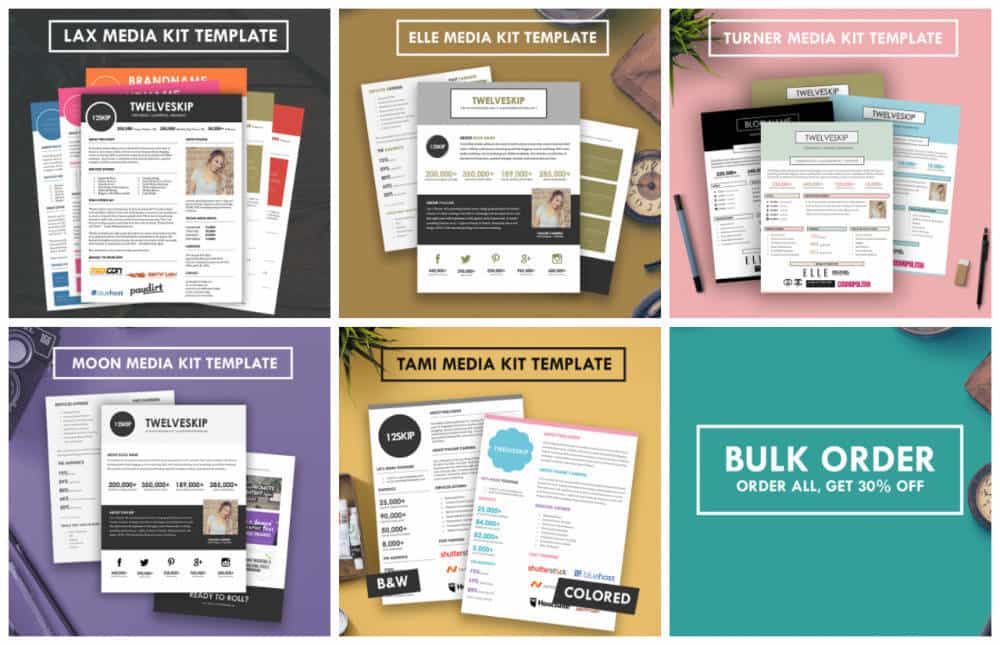 Photo above features template examples from HIPmediakits.com
[Important Note: I received free HIP Media Kit Templates to demo. I found them extremely easy to use and was able to create an amazing, organized, and eye-catching media kit in less than an hour. These templates can be easily updated each month to keep the statistics on your media kit accurate and up-to-date. You can view the media kit I created below (using the Lax Media Kit Template in pink). Also, because I strongly believe in these templates, I have become a HIP Media Kit affiliate. This means I receive monetary compensation (with no pass-on cost to you) for every media kit purchased through links on The Mindful Shopper.]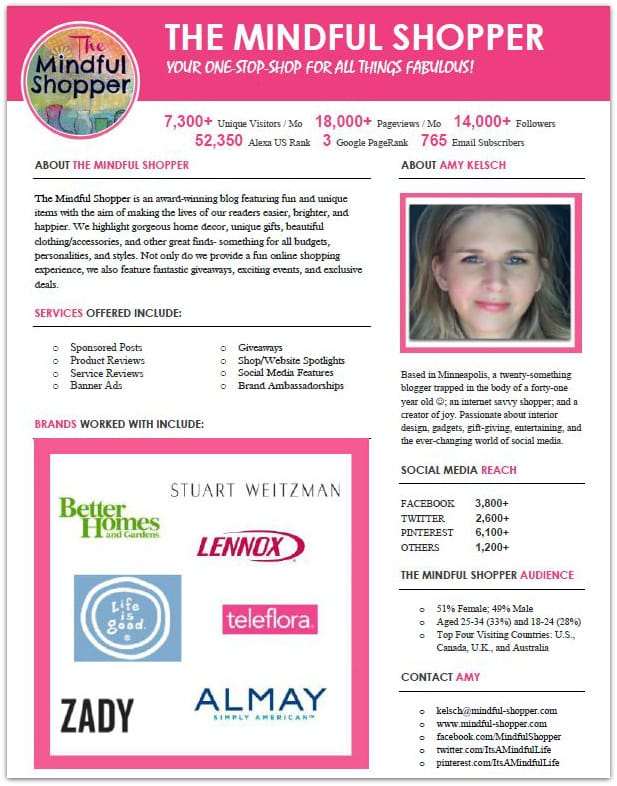 How To Purchase A HIP Media Kit Template:
***Click HERE to learn more or to purchase a HIP Media Kit Template.***
Take a moment and leave a comment. Have you created a media kit for your blog? Any additional tips/tricks for creating an amazing blog media kit?
Also, please feel free to ask questions.
STAY CONNECTED:
FACEBOOK | PINTEREST | TWITTER
You can also find this post linked here:
[Check out The Link Parties Page for more details.]
My Stay At Home Adventures Link Up Party | Small Victories Sunday Linky | Life On Lakeshore Drive | Saturdays Down Under Linky Party |
Made From Pinterest | Skip The Housework Saturda | Friday Finds and Favorite Hop | Pin Me Linky Party | My Favourite Post | Creative Muster Party | Whimsy Wednesdays | The Creative Exchange Link Party | Sincerely Paula's No Rules Weekend Blog Party | MSAHA Link Up Party | Mommy Monday Blog Hop