Spring Into Fall With UltraFab Shoes!
I am excited to reveal this collection of fabulous shoes! I have carefully selected shoes that could be worn comfortably in the seasons of Spring, Summer, and Fall. I know the value of a pair of shoes that will carry you through multiple seasons and this is the perfect time of year to find great prices on these shoes.
I invite you to sit back and enjoy online shoe shopping without the hustle and bustle of in-store shopping. With easy, no hassle returns*, this online shoe shopping could be just the thing you needed this busy Fall! I hope this post brings you comfort and joy and makes life a little easier!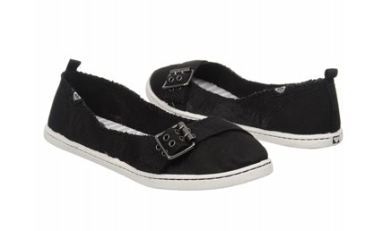 (1) Mom will feel "like a kid again" in these Cassie Flats ($49.99, on sale for $44.99, sold out) by Roxy. They have a canvas upper in a casual slip-on flat style.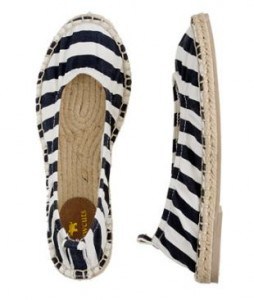 (2) Your little gal will feel all grown up, "just like Mom", in these delightful navy and ivory Girls' Stripe Espadrille Ballet Flats ($45, on sale for $29.99, sold out).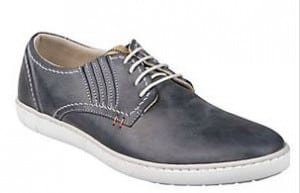 (3) Dad will feel like a rock star in these casual cool Steve Madden SLIICKK Sneakers ($119.95, on sale for $83.98) in blue leather.
**(Exciting News: an additional 30% discount is available from Steve Madden, exclusively for the Mindful Shopper readers! Enter code BOOT30 at checkout to receive the discount. Offer valid 9/6/12-9/10/12. Thanks Steve Madden!)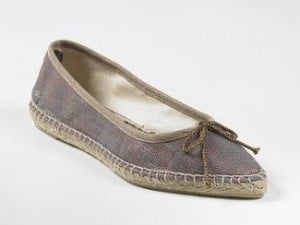 (4) What a perfect marriage of traditional design with modern accents!. This beautiful Ballet-Style Espadrille in Metallic Canvas ($99, on sale for $49, sold out) has a comfortable cotton canvas upper with a ballet-style pointed toe in a subtle metallic shine.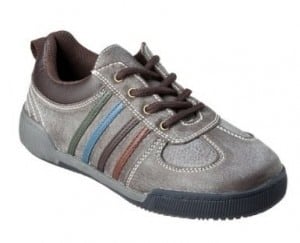 (5) Your little guy will feel like a "Big Guy" in this Boys' Wassup Fraser Shoe ($19.99, sold out). This fun shoe has a treaded sole, tagless footbed, and cushioned insole.
(6) Who would've thought Crocs were so chic? Be ready for any adventure with this men's Tookali ($59.99, on sale for $29.99) and be stylish and relaxed in this women's A-Leigh Wedge by Crocs ($59.95). Both of these comfortable shoes also come in black.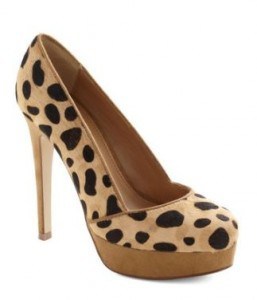 (7) Declare your fierce fashion style in this bold leopard-print Fierce Factor Heel ($99.99, sold out).
(8) Those emerging fashionistas will love wearing this Girls' Cherokee Leopard Ballet Flat ($14.99, sold out). These darling slip-ons have a tagless footbed and cushioned insole.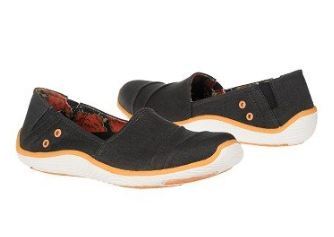 (9) I love the casual yet whimsical look of these navy women's NaturalSport Ginger Shoes ($69, on sale for $20.70, sold out). These casual slip-ons have a canvas upper with touches of orange accents and feature a cushioning Dr. Scholl's gel insert.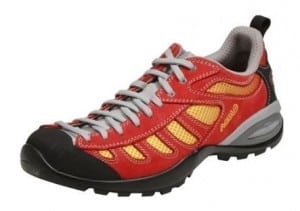 (10) These rugged men's Asolo Ray Hikers ($120, outlet sale price is $69.99, sold out) are dependable and luxurious. What a combo! They have water resistant uppers with rubber toe caps to help protect feet. Asolo is know for their flexible, lightweight, breathable, and shock absorbent shoes, with dependable all-around traction.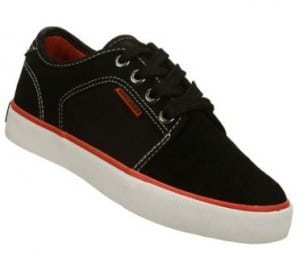 (11) I love the colors in this Boys' Catapultz Shoe ($37, on sale for $29.60, sold out) by SKECHERS (my high school colors were orange and black :))! These sporty shoes are made of a durable canvas fabric upper with a classic skate sneaker shock absorbing mid-sole.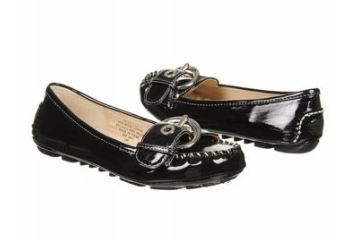 (12) These cute Girls' Julissa Loafers ($39.99, on sale for $34.99) from Nine West feature a faux-patent leather upper and decorative buckle across the instep.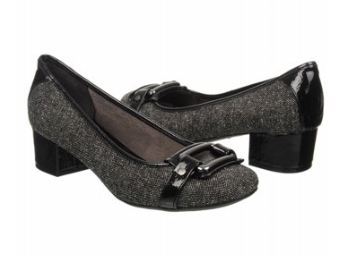 (13) These LifeStride Women's Lynx ($59.99, on sale for $49.99, sold out) shoes with a cushioned insole are a ton of fun! These enchanting shoes are made with fabric and faux patent leather with a metal buckle detail.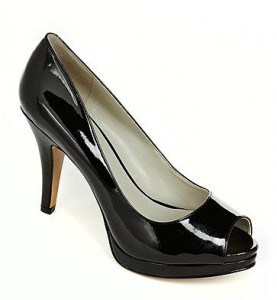 (14) Nine West makes this flattering silhouette. These Danee Platform Pumps ($79, sold out) are available in medium and wide widths. This shoe has a 4″ heel height with a 1/4″ platform height.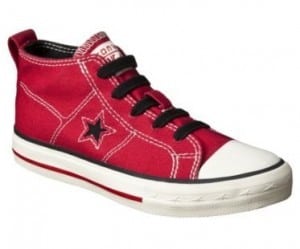 (15) This classic canvas Kids' Converse ($27.99) in red is always a safe buy for back-to-school.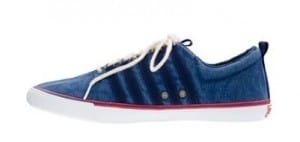 (16) These navy Men's K-Swiss Venice Surf & Court Sneakers ($85, on sale for $49.99, sold out) are a triple collaboration between Reid, K-Swiss, and J.Crew. This hard-to-find collector's item is available in limited quantities. Also available in natural and washed black colors.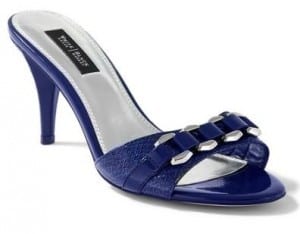 (17) This is one of my favorites! This classy snake-embossed Exotic Slide ($88, on sale for $29.99, sold out) is a 3″ work of art made with polished silvertone links.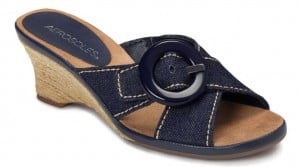 (18) This Citizen Slide ($59, on sale for $24.99, sold out) by Aerosoles is wonderful. I own it and love it! This fun shoe has crisscross straps, a decorative ring, and a 2¼" rope-wrapped heel.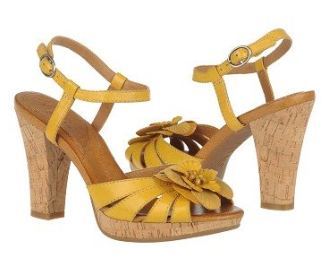 (19) The Wanita Dress Sandal ($145, on sale for $69.99, sold out) from Naya is a lovely shoe that comes in great colors of yellow, natural, and orange. This classy 3 3/4″ heel shoe has a decorative flower detail and a cushioning insole with the Latex Comfort System. Naya strives to use environmentally preferred materials in designing their shoes to leave a softer "footprint" on Earth.
(20) Ruffle detail embellishes the peep toes of these adorable Grontiz Slingback Wedge Sandals ($50, on sale for $20). This 3½" wedge heel has a slingback strap with an adjustable buckle and a lovely ruffle detail.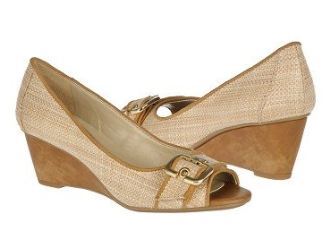 (21) This Hidi Wedge ($79, on sale for $39.99, sold out) from Naturalizer is a wonderful shoe that can be worn with dressy or casual outfits. This 2 1/4″ wedge heel has a cushioned insole featuring the Naturalizer's N5 Comfort System.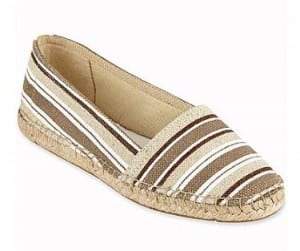 (22) The neutral stripes in this women's canvas espadrille make this Tracey Casual Slip On ($30, on sale for $17, sold out) a perfect fit for almost any casual outfit.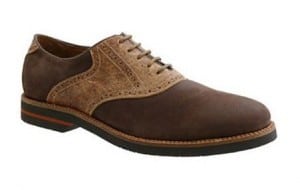 (23) The two-tone leather in this Men's Bass Burlington ($78.99, sold out) makes this shoe a sophisticated and cool version of the classic oxford. This classy shoe is made of a smooth leather lining that provides breath-ability with a padded footbed to provide long-lasting comfort.
(24) These dreamy Mirada Crossed Slingbacks from Anthropologie ($168, on sale for $79.95) feature an adjustable buckle and a 4″ leather wrapped  heel with a 0.75″ platform. These shoes are absolutely fabulous!
*Mindful Shopper Tips (updated 9/6/12, 09:22):
1) I have researched the items that are featured on this post to determine if they are "returnable", even if they are on sale; however, when purchasing an item, please check the sellers return policy for details. Most sellers have standard return policies which include length of time allowed between purchase and return of item, if items with signs of wear can be returned, and if a sales receipt is required for the return.
2) Each seller has a size chart that makes it easy for you to use a measurement of your child's foot in inches to correlate to a shoe size from that particular company. No more wondering if you should buy last year's shoe size. Here is an example of a shoe sizing chart from J.Crew http://www.jcrew.com/sizecharts/main.jsp?sizeChart=3,2.
Thank you for dropping by The Mindful Shopper! I absolutely LOVE it when you stop by! I hope you enjoyed my post Fabulous Shoes For Everyone!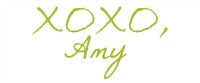 FOLLOW ME:
FACEBOOK | PINTEREST | TWITTER
FREE NEWSLETTER: